BlueTree Systems showcased its new Android platform during the Truckload Carriers Association's annual conference, held March 8-11 in Kissimmee, Fla.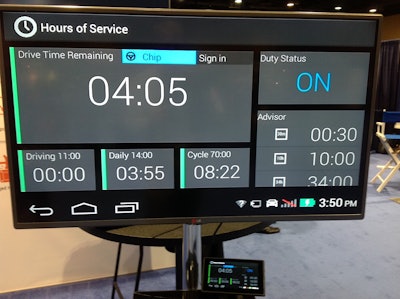 BlueTree developed a new ELD-style recording device, the BT500, and re-wrote its software applications to run on smartphones and tablets with the Android operating system.
The compact BT500 connects with a tractor's CAN Bus to capture, monitor and transmit data to BlueTree's online servers through an embedded GSM cellular modem. In the cab, the BT500 connects with Android devices through short-range Bluetooth and Wi-Fi protocols.
Fleets can configure the BT500 to be a secure wireless hotspot, allowing drivers to connect to the Web, said Chip Powell, director of U.S. operations for BlueTree Systems.
As part of the rollout, BlueTree partnered with Garmin to offer the fleet 670 device to run BlueTree applications which include messaging, electronic hours-of-service with HOS Advisor, and driver performance.
The Garmin fleet 670, an Android tablet with a 6-inch screen, comes with truck navigation and lifetime map updates. It has a built-in camera to capture images of delivery documents and cargo claims. It also comes with near-field communications which fleets can use as part of the vehicle inspection process to ensure that drivers physically walked around the vehicle.
An inspection app on the device can detect signals from tags attached to different areas on the vehicle and trailer.
BlueTree is in the final stages of developing an app that can be downloaded to any device from the Google Play store. With this app, drivers could receive dispatch messages outside the cab.
"The user interface is really good for drivers," he says.
BlueTree also offers a temperature monitoring app that can alert drivers to exceptions captured by its R:COM reefer monitoring system. As a future option, the BT500 will support streaming video from up to four wireless cameras placed around the vehicle, he added.
BlueTree established a telematics footprint in Europe before it expanded to the United States. The company's headquarters is in Ireland. In Europe, high fuel prices and stringent regulations for temperature-controlled freight, have been the primary drivers of product development, Powell said.
For the U.S. market, BlueTree is leveraging its expertise in analyzing engine data to develop a more detailed view of driver behaviors and performance. "We are not just going to measure on harsh brake, MPG and RPMs," he said. "We are going to measure on how they are actually driving the truck."
As part of this effort, BlueTree will build a scoring program that gives drivers feedback throughout the day in fuel efficiency, safety and other performance areas. The cumulative score can be used by fleets to reinforce positive behaviors through incentives and rewards, he says.
Powell also said BlueTree will be opening a new technical support office in Greensboro, N.C., on March 30.