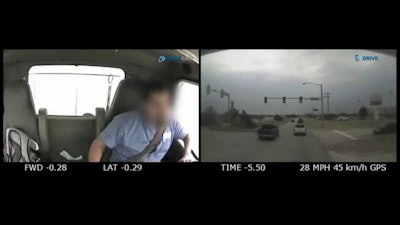 Editor's note: this is the second of a two-part series on how technology is changing the landscape of training drivers. Part one (last week) looked at new developments in online training.
With the average turnover rate in excess of 90 percent, the transportation industry — and especially the for-hire truckload sector — is looking to expand the pool of drivers while reducing overall risk.
That may be a tall order, but technology is creating new options to increase the effectiveness and speed of training drivers with all levels of experience.
Like a lot of companies, J&R Schugel uses video to train drivers, though its footage is not filmed in studios with narrators, actors and props. Rather, it comes directly from the scene of accidents, risky events and errant behaviors that involve its own driving force.
The New Ulm, Minn.-based truckload business has recording devices installed in all 450 company-owned tractors and 150 trucks powered by its lease operators and independent contractors.
Just as coaches and professional athletes study game film to improve skills and decision-making, driver managers use the video to help drivers learn how to operate more safely.
J&R Schugel focuses on using the DriveCam safety program from Lytx to make drivers aware of what events trigger video recordings and to show them how their performance compares to the rest of the fleet, says Clay Merches, vice president of safety and human resources.
"The internal drive that we naturally have comes out when speaking with (drivers) and showing them where they stand," Merches explains.
DASHCAM VIDEOS
In this video, a truck driver is caught going too fast around a corner (video courtesy of Lytx).
Cypress Truck Lines recently used this video, captured by its SmartDrive system, to avoid a potential lawsuit and exonerate one of its drivers.
In this video, the cab-facing camera detects the driver is distracted by looking out the window and narrowly avoids a rear-end collision (courtesy of Lytx)
In this clip, a driver has to swerve around a vehicle because of following too closely (courtesy of Lytx)
With coaching and competition, drivers are getting better at what they do. "Overall it has a very good impact," he says.
As one measure of success, the company has seen a decrease in speeding events by 35 percent with plans to reduce them by another 50 percent.
Video-based driver risk management systems are one of several technologies fleets use to create customized training programs for drivers while improving the speed and effectiveness of the process. Here are three areas where technology can be used to achieve results.
Behavior training
Studies show that drivers at the highest risk for accidents are those in the first three to six months of a new job. Soon after J&R Schugel hires drivers, fleet managers can identify those who stand in need of additional training, regardless of their past work experiences.
"We see their behaviors and work on those," he says. When driver managers coach on behaviors, they show a current clip of the event as well as a previously recorded accident that resulted from the type of behavior being discussed, such as speeding.
The message is clear: "Unless you change that behavior, this will happen. This is your peers you are looking at. They've been in the same boat," he says.
Video-based safety systems give fleets "new, immediate and ongoing" training material, says Steve Mitgang, chief executive officer of SmartDrive Systems.
SmartDrive uses the video captured from vehicles together with a scoring method to deliver an objective, consistent and ongoing measurement of drivers' skills, he says.
"Video gives a real-time ride along. It makes classroom training better because you have a real assessment," Mitgang says. Fleets are experiencing the most success by meeting with drivers regularly to give positive feedback, he adds.
For fleets that operate CDL or driver finishing schools, video systems can improve the effectiveness of on-the-road training, says Del Lisk, vice president of safety services for Lytx. The DriveCam program automatically captures video of risky events, like sudden braking. It also has a manual button. When pressed, the system captures a 12-second clip of that moment in time.
Trainers are using the manual record button to capture events for later review, such as when a driver does not properly set up a turn. It is difficult to train drives in a stressful environment and to help them visualize all the details of the situation after the fact, he says. Showing drivers a video in the classroom of what happened on the road creates a more conducive learning environment, he says.
For videos that are triggered automatically, Lytx has behavior analysts review the event to note what drivers should have done differently — such as looking at the correct mirror. Fleet managers can use this information when coaching drivers in person or over the phone. They can also have the information sent directly to drivers in an email for review.
"There are a variety of ways to approach training with the use of video," he says.
Custom content
Last March, Bison Transport, based in Winnepeg, Canada, was recognized at the Truckload Carriers Association (TCA) annual convention as the safest truckload carrier in its division for its industry leading safety and driver programs. Bison also received first place in the National Fleet Safety Awards for the 9th consecutive time.
The company has developed an extensive training program for drivers that is also fast and efficient. Drivers complete a 2.5-day orientation training and then five additional instructor-led courses and 17 online courses during the first year. The instructor-led courses include time in a full-scale simulator.
The online courses are available through its intranet site and at computer labs in its facilities, 24/7, with swipe-card access.
During the second year and thereafter, drivers get one instructor-led and four online course per year. Drivers also talk to safety counselors three times per year, on average, for issues that arise, says Garth Pitzel, director of safety and driver development.
The company collects data on driver performance and ranks them on a scale of low to high risk. Bison is planning to use video recorders to better understand the behaviors of at-risk drivers. The cameras might also help shorten its entry-level driver training program, he says.
Currently, the company plans to use video recording devices in trucks with drivers that are medium risk and above. This segment is currently about 8.5 percent of its fleet, he says. The technology is portable, so as a driver becomes low risk, the cameras can be taken out.
Bison also has a custom Driver Information Management System (DIMS) that is integrated with its operations software. If the safety department decides to ground a driver due to training expirations or for other reasons, the driver cannot be dispatched, he says.
Learning management
Another way fleets can further streamline their driver orientation and ongoing training is with a learning management system (LMS). This technology helps manage the progress of drivers through each stage of the training process.
EBE Technologies offers an LMS that gives carriers a framework for building a custom training program with in-house and third-party content. Users can embed training videos, PowerPoint presentations, randomized tests and more into the program.
Maverick Transportation is using the technology from EBE — a system it calls Computer Driver Training (CDT) — to streamline the training process from start to finish. Maverick has a CDL finishing program for new drivers. Before drivers arrive, managers build classes from the queue in CDT. Information feeds into CDT directly from Maverick's paperless driver recruiting and hiring system, also from EBE.
Drivers go through an array of computerized training modules for safety, compliance and other topics tailored to the company's diverse operations that include flatbed, temperature control, glass hauling, pneumatic tanker and dry van truckload.
EBE's most recent LMS version is mobile friendly. Drivers can access training content from their personal devices, says Cindy Nelson, vice president of marketing and business development.
Experts agree that using technology to customize the training to meet the specific needs of each driver, and to do that more effectively and efficiently than ever before, is where success lies.