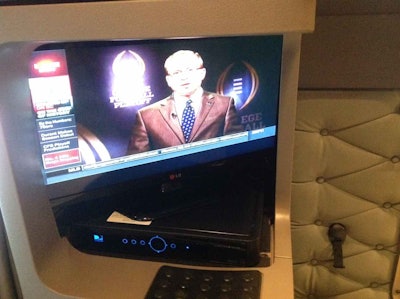 EpicVue, providers of in-cab satellite TV for the trucking industry, announced that Holland Enterprises is installing EpicVue as a key part of the tools it uses to recruit and retain drivers. The Fargo, North Dakota-based refrigerated carrier currently has 175 satellite TV packages in its fleet of 220 company-owned tractors.
"As a 48-state, long haul trucking company with an average length of haul of 1,550 miles, we need to recruit and retain drivers who are willing to be on the road 14 to 21 days at a time," said Brad Schemel, vice president of Holland Enterprises. "EpicVue is one part of the package we offer that sets us apart from our competition and allows us to bring in new drivers and grow our fleet."
"Our drivers that have EpicVue systems definitely like it," Schemel added. "Satellite TV gives them the option of sitting in the comfort of their truck and doing things there that they may otherwise do inside a truck stop. It gives them the flexibility of watching what they want, when they want. It's a definite creature comfort for drivers and provides a greater level of satisfaction with the job."
EpicVue in-cab satellite TV systems, including an antenna, DVR and 24-inch flat screen TV, can be installed in less than two hours per vehicle. The service provides more than 100 channels of programming, including premium TV services such as HBO, Showtime and NFL Sunday Ticket, for a monthly subscription fee and without any hardware costs.
EpicVue has packaged satellite TV for fleets with 20 or more vehicles for $49 per month under a five-year contract, or $59 monthly for a three-year contract.