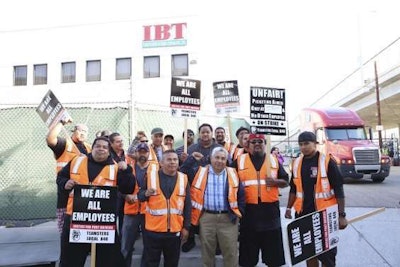 Southern California truckers demanding reclassification as employees have quit striking at three of the four non-union drayage firms they began picketing last Monday.
They returned to work May 1 at Intermodal Bridge Transport, Pacer Cartage and Harbor Rail Transport, while continuing protests at Pacific 9 Transportation.
On April 22, the Teamsters published a call for volunteers to picket what was then described as a week-long strike against 12 different port trucking companies.
That strike began April 27 against the four companies, but was averted at a fifth firm. That day, Green Fleet Systems and the union announced a comprehensive labor peace agreement. They said it allowed business to continue, while ensuring driver rights under the National Labor Relations Act.
In 2013, the Teamsters began organizing strikes against alleged labor law violations at some drayage firms serving the Los Angeles and Long Beach ports. The year before, drivers filed wage-and-hour claims with the California Department of Labor Standards Enforcement against the companies and began suing for wage theft and misclassification.
Pac 9 truckers are continuing their four strike in less than two years, arguing that multiple agencies have declared them employees. The strikers say Pac 9 has not responded to these determinations, but that the company has recently increased deductions from their paychecks for truck repairs.