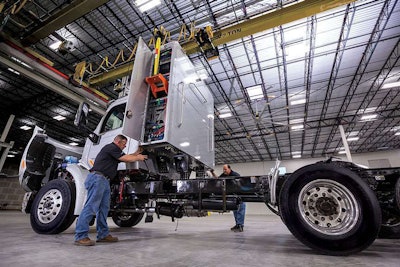 Rush Enterprises bolstered its natural gas presence Monday by formally announcing the birth of Momentum Fuel Technologies, a division of Rush Enterprises that the company calls "a vertically-integrated provider of fuel system solutions, featuring state-of-the-art engineering, design and manufacturing processes, complete system installation capabilities, and the industry's most comprehensive sales, service and support network."
At the ACT Expo in Dallas, Texas Monday, Momentum introduced the industry's first complete compressed natural gas (CNG) fuel system solution for Class 6 to Class 8 trucks.
Since 2011, Rush Enterprises CEO Rusty Rush says his company has sold 10 percent or more of the natural gas trucks on the market with a high of 15.4 percent in 2013. Rush Truck Centers nationwide sold 10 percent of the NatGas trucks on the highway last year.
Rush says Momentum will have the sales and service support of the Rush Truck Centers dealership network. The company already has 14 facilities with dedicated natural gas service bays with construction of another 12 facilities currently underway.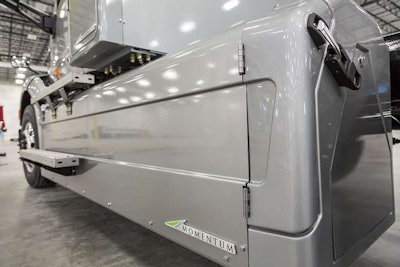 All new stores going forward will be built with dedicated natural gas bays and Rush Truck Centers already employs 139 OEM natural gas trained technicians; 58 fuel system-trained technicians; 264 safety-trained technicians and offers mobile service capacity and parts support for natural gas units.
"Natural gas is not replacing diesel. Not going to happen," Rush says, adding he foresees a 15 to 17 percent Class 8 NatGas adoption rate by 2020, which falls slightly below ACT Research's predicted 23 percent.
"I expect it to grow in some markets, but not in all markets," Rush adds. "We believe that the preference for natural gas vehicles will continue to grow, increasing nearly five-fold in the next five years, as ACT indicates," said Rush.
The company says it will offer both side-mount and back-of-cab mount systems. Side-mount systems include a 40DGE with a range of 176-220 miles and 45DGE with a range of 198-248 miles. The back-of-cab mount system with 110DGE with a range of 506-633 miles is expected to hit the market this summer with another back-of-cab mount 150DGE system with a range of 660-825 miles expected by fall 2015.
Mike Zimmerman, general manager of Momentum Fuel Technologies, says future product development will include an expanded range of configurations to meet the needs of different applications.
"In addition, we will continue to work with Cummins Engine Company and other major engine manufacturers to ensure the Momentum CNG fuel system is well integrated and optimized to work efficiently with current and developing engine technology," he says.
"We are also working with independent service providers including the Cummins distributor and Peterbilt dealer networks, among others, to provide supplemental aftermarket support in areas where Rush Truck Centers does not currently have dealership operations," says Mike McRoberts, senior vice president of dealer operations, Rush Enterprises, Inc.
Company leaders and researchers spent more than 5,200 hours talking to customers about their needs, and then applied those findings to the design, engineering and manufacture of this solution. In addition, Rush says he invested "millions" in the venture, solidifying Rush Enterprises' commitment to natural gas in the marketplace.
"We're in (the natural gas market) for the long-term," he says.
Zimmerman says the system was designed to be aesthetically pleasing and serve to compliment the truck's existing body lines.
"In talking to customers, they want a fuel system that looks good on the truck," he says. "They pay a lot of money for these trucks and they want them to look good in whatever industry they're in."
Zimmerman says body lines incorporated in side-mount styling and large-radius back-of-cab corners match cab styling and maintain OEM aesthetics. A stylish, ergonomic heavy-duty door latch is included for easy use with work gloves.
Advanced safety
Area Pressure Relief Devices (PRD) Increase Safety
In the event of a fire or other emergency, area PRDs vent fuel in the system out through tubes at the rear of the system. All PRD vent tubes are fitted with weatherproof caps to protect the system from environmental elements.
Easy to See When Tank Is Closed
Since it can be difficult to tell if conventional valves are closed completely, this system uses quarter-turn heavy-duty ball valves for improved visibility of closed valves.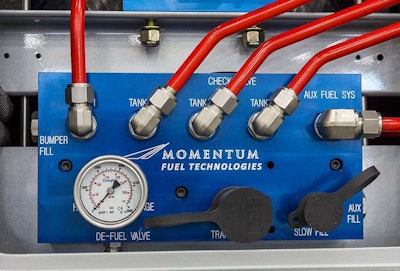 Color Coded for Quick Visual Indication
All high-pressure lines in the system are color coded so they are easy for drivers and technicians to identify. The live high-pressure PRD lines are powder-coated in blue, and high-pressure fuel lines are powder-coated in red.
Additional Features Enhance Road Safety
A standard fuel door safety warning system prevents the engine from starting if the door is ajar. Optional load lights and rear camera on back-of-cab systems improve visibility and make hitching easier.
Momentum Fuel Technologies will also offer training on system operations, safety, service installation and facility requirements to customers and authorized dealers. Rush Truck Centers further supports customers by providing consulting assistance to help customers navigate grants and tax incentives.
Momentum's CNG fuel systems is constructed of lightweight aluminum and fiberglass composite materials with extruded aluminum in frame corners, base rails and cross members, which Zimmerman says makes the unit 27 percent more weight-to-volume efficient that its closest competitor.
The Momentum CNG Fuel System tanks use the latest 3M nanoparticle-enhanced matrix resin technology, which results in a six percent improvement in fiber delivered burst strength when compared to vessels with conventional resin. The tank is 25 percent lighter and 27 percent more weight/volume efficient compared to a market leader's similar sized tanks.* This system is designed to optimize space usage.