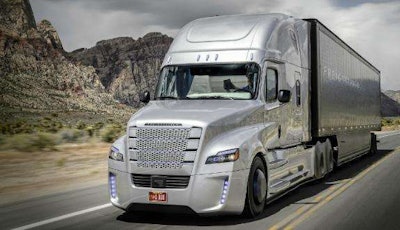 One more daylight @freightliner #inspirationtruck shot. pic.twitter.com/nIAf8hmfhK

— Jack Roberts (@JackRobertsCCJ) May 6, 2015
Freightliner unveiled in late March its futuristic SuperTruck concept vehicle, and it followed up just five weeks later with the introduction of the country's first self-driving truck that can legally operate on U.S. roadways (though it's exclusive to Nevada currently), which the company introduced May 5.
The truck maker gave trucking industry press the opportunity to see the trucks up close and drive them and ride in them Wednesday, May 6.
CCJ's Equipment Editor, Jack Roberts, and News Editor, James Jaillet, were on hand at the event.
Here are photos, vidoes and tweets from Freightliner's SuperTruck and Inspiration event:
Close up of the rear-view camera (driver side) on the @freightliner #Inspirationtruck pic.twitter.com/6eBPuPLpjm

— Jack Roberts (@JackRobertsCCJ) May 6, 2015
Look, Ma! No hands! @freightliner #inspirationtruck pic.twitter.com/WqVlM72gFc

— Jack Roberts (@JackRobertsCCJ) May 6, 2015
Here's an #Inspirationtruck dash close up. pic.twitter.com/WxVhsCf62S

— Jack Roberts (@JackRobertsCCJ) May 6, 2015
Here's the @freightliner #inspirationtruck dash cluster. pic.twitter.com/ULSC9zkPi3

— Jack Roberts (@JackRobertsCCJ) May 6, 2015
Here's the @SCTFreightliner #inspirationtruck Pilot Control Display. pic.twitter.com/OeNV8bHqWu

— Jack Roberts (@JackRobertsCCJ) May 6, 2015
Quick walk around of Freightliner's SuperTruck here at the Las Vegas Speedway. pic.twitter.com/Oh9K1JEPI9

— James Jaillet (@trucknewsJJ) May 6, 2015
AV platooning optimizes air pressure between trucks for fuel econ boost: lead trk sees 3%, middle truck gets 7%, last truck gets 6%

— Jack Roberts (@JackRobertsCCJ) May 6, 2015
Big deal noted about #Inspirationtruck: Vehicle to vehicle communication would allow trucks to platoon, boosting fuel economy, efficiency.

— James Jaillet (@trucknewsJJ) May 6, 2015
What's next for AV tech? Improved lane keeping, blind spot assist systems w/ cross traffic recognition and road sign recognition.

— Jack Roberts (@JackRobertsCCJ) May 6, 2015
A-pillar, interior-mounted rear-view cameras may soon replace rear-view mirrors for improved aerodynamics. pic.twitter.com/jUXJ43aDOp

— Jack Roberts (@JackRobertsCCJ) May 6, 2015
Long- and short-range radar working with stereo camera system and adaptive cruise control on #inspirationtruck pic.twitter.com/JftFbOlkaF

— Jack Roberts (@JackRobertsCCJ) May 6, 2015
Major @freightliner #inspirationtruck technologies highlighted in this pic. pic.twitter.com/ST6rpJmaDX

— Jack Roberts (@JackRobertsCCJ) May 6, 2015
Drivers of #inspirationtruck can override Highway Pilot system at all times, #Freightliner says.

— James Jaillet (@trucknewsJJ) May 6, 2015
AV Technology benefits (see pic) @freightliner #inspirationtruck pic.twitter.com/2ogMNqwaoH

— Jack Roberts (@JackRobertsCCJ) May 6, 2015
#Freightliner not interested in pursuing Level 4 truck, which would be fully autonomous vehicle that requires no driver input, says Pearson.

— James Jaillet (@trucknewsJJ) May 6, 2015
For Level 3 self-driving vehicles like #inspirationtruck to take off, regulations need to help drive adoption, says #Freightliner's Pearson.

— James Jaillet (@trucknewsJJ) May 6, 2015
Level 4 AV probably 10 years away. These are actual driverless trucks.

— Jack Roberts (@JackRobertsCCJ) May 6, 2015
Myth No. 1: The #inspirationtruck is NOT a driverless vehicle. It must have a driver.

— Jack Roberts (@JackRobertsCCJ) May 6, 2015
The #inspirationtruck is a Level 3 Autonomous Vehicle – driver can cede full control to vehicle. Still need driver to take over at all times

— Jack Roberts (@JackRobertsCCJ) May 6, 2015
Level 2 – Includes systems like adaptive cruise control. But driver has control of the wheel.

— Jack Roberts (@JackRobertsCCJ) May 6, 2015
There are 5 levels, from 0 to 4. Level 1, for example, is a car with antilock brakes.

— Jack Roberts (@JackRobertsCCJ) May 6, 2015
Pearson: @freightliner #inspirationtruck Concept trucks never result in short-term production trucks.

— Jack Roberts (@JackRobertsCCJ) May 6, 2015
#Freightliner has petitioned DOT to work on rulemaking allowing cameras in place of mirrors. Cams improve fuel economy, safety, Waters says

— James Jaillet (@trucknewsJJ) May 6, 2015
Regulators walking tight rope of promoting autonomous adoption, ensuring safety and not stifling more innovation – #Freightliner's Waters.

— James Jaillet (@trucknewsJJ) May 6, 2015
Endorsement requirement for CDL will come when autonomous truck is available to consumers, says NV DOT rep. Truck still in testing phase now

— James Jaillet (@trucknewsJJ) May 6, 2015
Waters: Nevada stepped up to license #inspirationtruck But national standards are what the country needs.

— Jack Roberts (@JackRobertsCCJ) May 6, 2015
Waters: Acceptance of autonomous vehicles by lawmakers, society, trucking will likely come "much sooner" than anticipated #Freightliner

— James Jaillet (@trucknewsJJ) May 6, 2015
Regulations failing to keep up with pace of innovation, says #Freightliner's Waters.

— James Jaillet (@trucknewsJJ) May 6, 2015
For instance, trucks could use tiny cameras in lieu of side mirrors to boost safety and fuel economy, but regulations require mirrors.

— James Jaillet (@trucknewsJJ) May 6, 2015
Regulations failing to keep up with pace of innovation, says #Freightliner's Waters.

— James Jaillet (@trucknewsJJ) May 6, 2015
Waters: Nothing more wasteful than fuel going up the stacks while a truck sits idle in a traffic jam. @freightliner

— Jack Roberts (@JackRobertsCCJ) May 6, 2015
Waters makes a great point: Limiting/ending congestion is a HUGE way to save fuel nationally. @freightliner

— Jack Roberts (@JackRobertsCCJ) May 6, 2015
#Inspirationtruck tech can help alleviate challenges of growing freight, increased traffic and congestion, says #Freightliner's Sean Waters.

— James Jaillet (@trucknewsJJ) May 6, 2015
Here are #Freightliner's SuperTruck & Inspiration truck. More later when @JackRobertsCCJ and I take them for a spin. pic.twitter.com/7FD26WCK99

— James Jaillet (@trucknewsJJ) May 6, 2015
I asked Rotz what the biggest Super Truck design challenge was: Optimizing cooling vs aerodynamics, complicated by waste heat recovery.

— Jack Roberts (@JackRobertsCCJ) May 6, 2015
Reed's breakdown on viable trucking tech over the next 5 years. See chart. pic.twitter.com/1JK5GKWjmA

— Jack Roberts (@JackRobertsCCJ) May 6, 2015
Rotz: "These are real MPG numbers; They were not achieved in a wind tunnel or on a test track." #inspirationtruck

— Jack Roberts (@JackRobertsCCJ) May 6, 2015
Rotz: Super Truck logged 12.2 mpg during real-world driving validation tests on public highways in Texas.

— Jack Roberts (@JackRobertsCCJ) May 6, 2015
Rotz: Super Truck also has a parallel hybrid powertrain to convert brake energy to usable launch energy. #inspirationtruck

— Jack Roberts (@JackRobertsCCJ) May 6, 2015
Rotz: Key Super Truck design concept was to envision tractor & trailer as wholly integrated vehicle system. #inspirationtruck

— Jack Roberts (@JackRobertsCCJ) May 6, 2015
Super Truck has a Waste Heat Recovery system which converts exhaust heat to usable energy for vehicle use. @freightliner #InspirationTruck

— Jack Roberts (@JackRobertsCCJ) May 6, 2015
Freight efficiency is a measurement of ton miles per gallon of fuel burned. #inspirationtruck

— Jack Roberts (@JackRobertsCCJ) May 6, 2015
Super Truck eventually achieved a stunning 115% in freight efficiency running on public highways/real-world applications. #inspirationtruck

— Jack Roberts (@JackRobertsCCJ) May 6, 2015
Reminder: Super Truck was a joint private industry/government R&D project to determine how much HD truck efficiencies.

— Jack Roberts (@JackRobertsCCJ) May 6, 2015
Mastering integration of modern tech is key to development of self-driving truck, #Freightliner's Achenbach says, not just existence of tech

— James Jaillet (@trucknewsJJ) May 6, 2015
Dr. Auchenbach: #inspirationtruck is a natural evolution of Daimler's Passive and Active Safety System research and development.

— Jack Roberts (@JackRobertsCCJ) May 6, 2015
(cont) active braking, automated transmissions, steering control and more.

— James Jaillet (@trucknewsJJ) May 6, 2015
Freightliner's #inspirationtruck employs several active safety technologies that already exist, like radar- and camera-driven cruise (cont.)

— James Jaillet (@trucknewsJJ) May 6, 2015
Fleets will more voluntarily adopt active safety systems, Achenbach says, as they can see tangible payback in efficiency, crash reduction.

— James Jaillet (@trucknewsJJ) May 6, 2015
Achenbach: Active safety system becomes engaged prior to collision. Passive more gov't driven, active will be more market driven, he says.

— James Jaillet (@trucknewsJJ) May 6, 2015
Achenbach: Over the years, passive safety systems became mandated. 'Passive' means they came into play after crash.

— James Jaillet (@trucknewsJJ) May 6, 2015
Dr. Wilfried Achenbach and Diane Hames briefing now on Real-World Operating Costs and Safety aspects of the @freightliner #inspirationtruck

— Jack Roberts (@JackRobertsCCJ) May 6, 2015
Martin Daum: "Will the driver become obsolete? I don't see that. The human brain is still the greatest computer ever." #inspirationtruck

— Jack Roberts (@JackRobertsCCJ) May 6, 2015
But what does the @freightliner #inspirationtruck look like in daylight, you ask? pic.twitter.com/f2UcQ1kb7l

— Jack Roberts (@JackRobertsCCJ) May 6, 2015