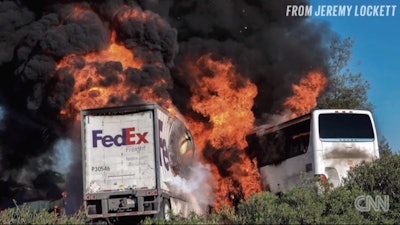 A 2,150-page preliminary investigation into a 2014 truck-motorcoach crash provides the trucker's breakfast menu but not what may have caused him to cross the interstate median and collide with a bus of high school students.
On April 10, 2014, a southbound FedEx truck pulling two 28-foot trailers crossed the Interstate 5 median in Orland, Calif. The 2007 Volvo entered the northbound lanes, hitting a Nissan Altima before crashing into a 2014 Setra bus. The truck and bus drivers and eight bus passengers died in the accident, which left an additional 39 people injured.
The FedEx driver had picked up two 28-foot trailers about 3:30 p.m. and was returning to Sacramento before the accident about two hours later. Silverado Stages Inc. had been chartered to take Southern California students to tour Humboldt University's Arcata campus. A replacement bus driver took the wheel during the motorcoach's scheduled stop in Sacramento.
The agency posted a 102-document preliminary report May 13, 2014, that included interviews and vehicle reports, but no analysis. The trucker had a good safety record, and other factors, such as vehicle maintenance, do not appear to have contributed to the accident, according to the report.
FedEx's dispatcher and the late trucker's wife told the NTSB that he had been selected to participate in a truck driving championship. On the day of the accident, he had eaten a homemade breakfast burrito instead of his usual eggs and potatoes and was well-rested, they said.
The FedEx driver who had exchanged trailers with the trucker reported the other driver told him he was fine, but that he had appeared "clammy" and pale, the report notes.
More than a dozen students interviewed agreed the motorcoach driver had not shown a safety video, although one recalled the driver providing brief safety instructions. Only three said they wore seat belts. Families of some of the passengers who died in the crash have filed wrongful death suits.
It's uncertain when the National Transportation Safety Board will conclude the investigation.