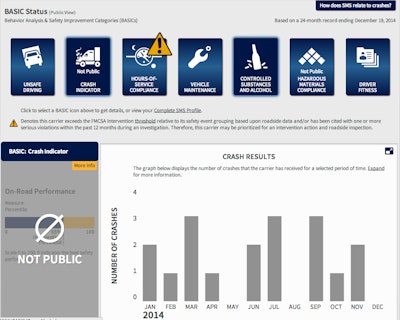 Following its introduction in the U.S. House earlier this year, two Republican Senators introduced last week in Congress' upper chamber the Transportation and Logistics Hiring Reform Act, a bill aimed at mitigating CSA's role in brokers' and shippers' carrier hiring decisions.
The bill would set into law three criteria that shippers, brokers, freight forwarders and receivers would look at to vet carriers prior to hiring them: (1) proper registration with FMCSA, (2) proper insurance minimums and (3) either satisfactory or conditional safety ratings per FMCSA.
Having the standards would "clarify and standardize industry best practices for hiring safety motor carriers," TIA says.
TIA's Chris Burroughs earlier this year, upon the bill's introduction in the U.S. House, said one end goal of the legislation is to limit the role of FMCSA's Compliance, Safety, Accountability program's use by third parties to judge carriers, especially in hiring. "Obviously there is this dark cloud out there that is CSA, and it's hurting carriers' business," Burroughs told CCJ in March.
CSA's percentile rankings, he said, shouldn't play a big role — if a role at all — in brokers' or shippers' process for hiring carriers.
Shortly after the House's introduction of the bill earlier this year, TIA changed its official stance on CSA scores, and it now advocates for removal of the public carrier rankings in the program until CSA is reformed. The group joins a long list of other industry groups advocating for the same thing.
The Senate's version of the carrier hiring standards bill was introduced by Sen. Deb Fischer (R-Neb.) — the trucking industry's seemingly latest advocate in Congress — and Sen. Roy Blunt (R-Mo.).