As we enter the final third of the second quarter of 2015 and sit about 6-10 weeks out from the latest batch of earnings reports from publicly traded carriers, how about a look back at how some truckload carriers fared in the first three months of the year?
The news was mostly positive, especially revenue reports for the truckload carriers the report earnings to shareholders quarterly.
Here's a comparison of 2015's first quarter to 2014's: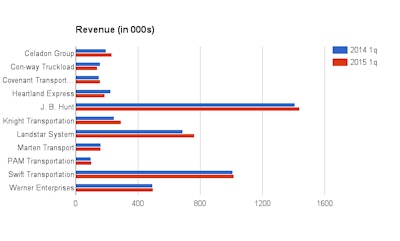 And by all accounts, 2014 was a banner year for growth for trucking companies. Admittedly, the first quarter was hampered by severe winter weather and general supply chain hang-ups, but the final three quarters of the year saw strong freight, big surges in rates, falling diesel prices and a little regulatory relief.
The question begs, however, will the final three quarters of 2015 hold what 2014 did?
Jonathan Starks, director of FTR's transportation analysis, said carriers at the tail end of 2014 saw "really good margin expansion," as rates trended up and fuel prices fell off.
The gap closed some in the first quarter of 2015, as fuel trended back up and rates trended back down, and, says Starks, other broader economic indicators cast a little gloom over the economy as a whole, which could styme earnings growth some for carriers in the rest of the year.
Economic growth, however, still still be there, Stark says, just at a slower pace than late 2014 and early 2015.
Below are two more charts showing reported financials from carriers in the first quarter.
But one more thing carriers should keep an eye on as far as bottom line impact: Driver wages.
The driver shortage has caused carriers to up driver pay, Stark says. "We saw at the end of the year that wage costs were up pretty dramatically — 10 percent year over year," he said. "So it'll be telling to see if that's able to continue or gain momentum in 2015. It could have an impact on the bottom line."
Here are charts for net income and weekly revenue per tractor, both of which point to stronger showings in the first quarter of 2015 than 2014: