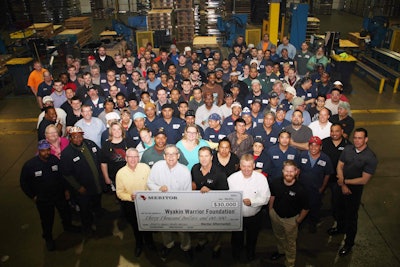 Staff Sgt. George Nickel of the U.S. Army Reserve's 321st Engineer Battalion was in a Mine-Resistant Ambush Protected (MRAP) vehicle with three other soldiers clearing the route to a downed helicopter in central Iraq when they ran over a 500-pound insurgent bomb. Only Nickel survived the February 2007 explosion, and he spent months recovering from traumatic brain injury and eight serious fractures.
Meritor, which has a 100-year tradition of supporting the U.S. military, is partnering with the Boise, Idaho-based Wyakin Warrior Foundation to help Nickel and other severely wounded veterans achieve professional and personal success.
Meritor announced it made a $50,000 contribution to the foundation, which mentors and gives financial assistance to veterans who are pursuing degrees in many areas, including engineering, business, law, criminal justice, education and computer science.
In January, Meritor launched its "Shoes for Soldiers" campaign, which earmarked a percentage of its remanufactured brake shoe sales to the Wyakin Warrior Foundation. Meritor's $50,000 contribution includes a $20,000 match from the Meritor Trust Fund.
Meritor's contribution will provide funding to Wyakin Warriors for additional veterans. The cost of the 60-month Wyakin Warrior program is $25,000 per veteran.