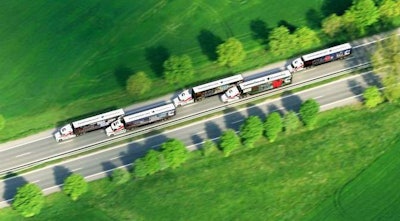 Cummins launched its 2015 Redefining Tour in June, a coast-to-coast mobile tour showcasing both current and future engine technologies. The Redefining Tour will visit 34 cities across the United States and Canada between June 13 and Oct. 6, providing customers an up-close and personal opportunity to view Cummins products.
The Cummins Redefining Tour features five Class-8 truck-and-trailer combinations representing major Class 8 OEM brands that will travel cross-country to each stop.
The vehicles are powered by a combination of the current ISX15 engine, the Cummins-Eaton SmartAdvantage Powertrain and the 2017 ISX15 engine with the Single Module aftertreatment system.
Additionally, the vehicles will feature specifications catering to both fuel efficiency and high-performance-oriented customers. One of the key highlights of the caravan is the interactive show trailer that will be on display for customers to walk though and explore. This expansive show trailer will feature three additional engines: the ISB6.7, the Cummins Westport ISX12 G natural gas engine and the 2017 ISX15 with the Single Module aftertreatment system. Numerous digital and interactive displays highlight the latest in Cummins technology, including ADEPT and Connected Diagnostics.
Unique to the tour are four designated Power Stops that include additional Cummins-powered diesel and natural gas equipment.
The remaining stops on the schedule are:
•Sept. 3 – Nashville, Tenn.
•Sept. 9 – Memphis, Tenn.
•Sept. 14 – St. Louis, Mo.
•Sept. 15 – Kansas City, Mo.
•Sept. 16 – Omaha, Neb.
•Sept. 19 – Englishtown, N.J.
•Sept. 23 – Boston, Mass.
•Sept. 25 – Farmington, N.Y.
•Sept. 28 – Baltimore, Md.
•Sept. 30 – Richmond, Va.
•Oct. 2 – Charlotte, N.C.
•Oct. 6 – Indianapolis, Ind.
Click here to see the full schedule and the route of the road tour.