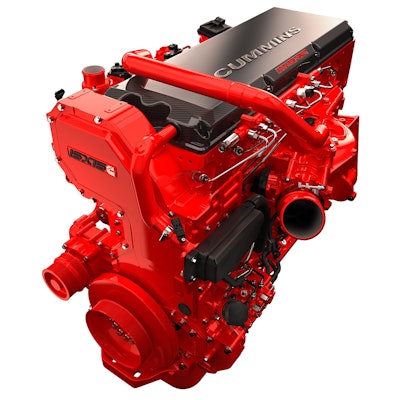 Cummins offered a sneak-peek at its 2017 greenhouse gas engine technology at the inaugural press conference at the 2015 Mid-America Trucking Show.
Details remain sparse, of course, but Srikanth Padmanabhan, vice president of the company's engine business noted that the ISX15 will feature enhancements including a more efficient turbocharger and reduced parasitic energy loss. The engine will be offered in distinct designs optimized for either performance or fuel economy. Power ratings will range from 400 to 605 horsepower.
Cummins will also offer new technology downstream from the engine. A new single-module exhaust after-treatment system will also debut in 2017. Srikanth says the new system is an evolutionary design that leverages both customer input as well as Cummins Filtrations' acquired after-treatment expertise. The system will be 60 percent smaller and 40 percent lighter than current after-treatment systems and will use new catalytic materials and DPF dosing methods to achieve reliable emissions compliance.
---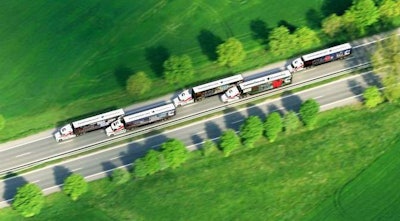 Cross-country Road Tour
The engine maker also announced it will be taking more than 10 Cummins-powered trucks from various truck OEMs on a cross-country road tour to put the company's latest technology on display, including the 2017 ISX, its SmartAdvantage powertrain, its new ADEPT powertrain, its natural gas engine offerings and its latest telematics system.
Connected Diagnostic program
Cummins also announced the first in a series of new telematics features with the launch of its Connected Diagnostic program, which will use existing telematic providers such as Omnitracs and PeopleNet to provide fleets with real-time maintenance information.
ADEPT software package
Driver efficiency was also addressed with the introduction of the ADEPT software package which further optimizes the SmartAdvantage integrated drivetrain (developed in conjunction with Eaton). ADEPT will be offered in various packages, each one designed to better manage engine torque and smooth out driver performance "variability" across fleets.
Half of commercial engines powered by Cummins engines
In business news, Dave Crompton, president of Cummins engine business, noted that more than 50 percent of all commercial engines in the United States today are powered by Cummins medium- and heavy-duty engines.
Crompton said Cummins earned $19.2 billion last year, with 56 percent of that revenue coming from its North American operations.
Crompton was upbeat about the current state of the trucking industry, saying that "the market is in much better shape over the last 12 months. It's a strong market and we are in a strong position in it. We are mindful that the industry is going through a transition, and we have every intention of investing to maintain that leadership position going forward."