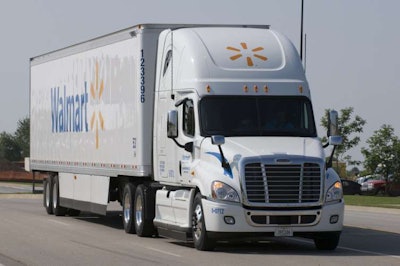 Walmart is considering its next steps in a class action suit where a federal judge concluded truckers must be paid at least minimum wage for all time worked
"There has been no finding that any Walmart driver has not been paid minimum wage for each hour worked," company spokesman Randy Hargrove said. "We intend to continue to defend the company against the claim."
San Francisco's Senior District Judge Susan Illston ruled May 28 that the company exercised "a high level of control" over truckers during federally mandated rest periods, but its $42 allocation per layover averages out to less than paying minimum wage, "Under California law, the drivers must be paid for all of the time that they were subject to [Walmart]'s control," Illston wrote.
The Arkansas-based company maintains some duties fall under certain paid tasks. Drivers are compensated under an activity code, such as when an inspection is performed as part of hooking a trailer. It argued a lack of an activity code for each code component is the same as paying a housekeeper for each house cleaned. Nothing in the Labor Code requires a separate "pay code" for each act that goes into cleaning the house, Walmart said.
Hargrove said 90 percent of Walmart's drivers have been with the company for more than a decade and earn an annual $80,000-$100,000.
Last September, the court granted the case class-action certification for more than 500 drivers employed between 1993 and the present. They originally filed the case in Alameda County Superior Court in 2008, before Walmart had it moved to federal court.
The company could owe as much as $100 million in backpay, according to some media reports.