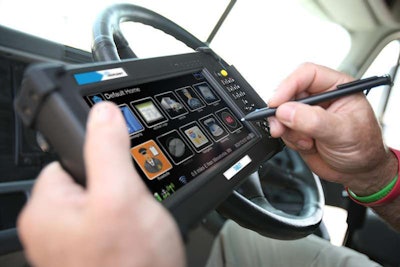 HighJump and PeopleNet announced the release of an enhanced integration between HighJump's Prophesy dispatch transportation management software and PeopleNet's mobile communications interface.
The companies say the interface is designed to allow dispatchers and drivers to focus more on their jobs and less on the legwork of communicating load information.
The newly expanded interface allows for load information to be sent automatically to the driver's in-cab device. The transmission includes the origin and address; the destination; the goods information including weight, pieces and pallets; the scheduled pick up date; and delivery date and time.
Drivers can send and receive key logistical information such as actual arrival and departure times; bill of lading numbers; inventory measures such as number of goods and quantities broken down into weight, pallet and pieces; trailer number and more.
"We are pleased to expand upon the success of our popular PeopleNet integration module to offer this real-time exchange of detail to our users, right within their Prophesy Dispatch Solution," said Bill Ashburn, HighJump's chief marketing officer.
"We are confident that our integration with Prophesy Dispatch will provide drivers with information that will help them have greater levels of safety, compliance, cost reduction and customer service, " said Kerri Tabor, PeopleNet's director of integration.
The Prophesy Series Solution handles all aspects of a transportation operation including dispatch, accounting, IFTA, DOT compliance, truck tracking, vehicle maintenance and more.