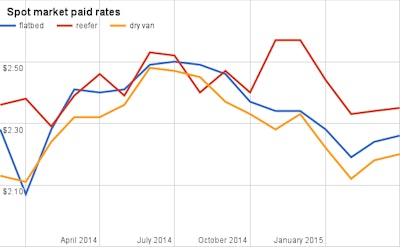 Paid rates on the spot market were stable in June compared to the month prior, according to monthly rate data from Truckstop.com, with dry van and flatbed rates creeping up and reefer rates inching down.
Paid rates, averages derived from rates paid to carriers on spot market loads, also signaled continued negotiating power for dry van haulers, as the paid rate average in the segment, $2.20, was 19 cents higher than that of the $2.01 posted rate average reported by Truckstop.com.
Posted rates in the segment have climbed in recent months, though only slightly narrowing the gap between the two averages. Paid van rates in June were, however, 18 cents lower than June 2014 — a record-setting month for all three segments.
Paid flatbed rates averaged $2.32 this June, up 3 cents from May's paid average. Posted rates in the segment, however, jumped 6 cents to $2.18. Paid rates were 17 cents lower than last June.
Paid reefer rates in the month averaged $2.38, down 2 cents from May and 15 cents from June 2014. Posted rates also declined 2 cents in June, following their 16-cent jump last month.
For all three segments, however, as noted by prior CCJ reporting, the drop in fuel prices in the last year has pulled gross rate averages down, though linehaul rates — the base rates — have not fallen off like gross rates have.
Here's a look at paid vs. posted rates for all three segments in the month: