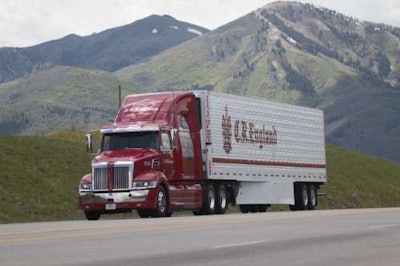 C.R. England this week announced the introduction of 2016 Western Star 5700 XE tractors into its fleet. Starting in July and then over the next several months, almost 200 new units will be put into service in the C.R. England fleet, with tenured solo and team drivers and million miler drivers the first to receive the Western Star vehicles.
"The adaptive cruise is so innovative and makes it easier to focus on being safe," said Zach England, Chief Operating Officer after a recent trip driving one of the vehicles. "We are pleased with this new addition to our fleet and expect it to be quite popular with our drivers."
The tractors feature woodgrain and leather interiors and a Detroit powertrain. This combines the DD15 with the direct drive DT12 automated shift transmission to provide one of the industry's most efficient powertrain packages. In addition, these trucks come with many safety features, including forward collision mitigation, adaptive cruise and hill-start technologies.
The Western Star 5700 XE is manufactured in the United States at a Daimler plant in Cleveland, North Carolina.