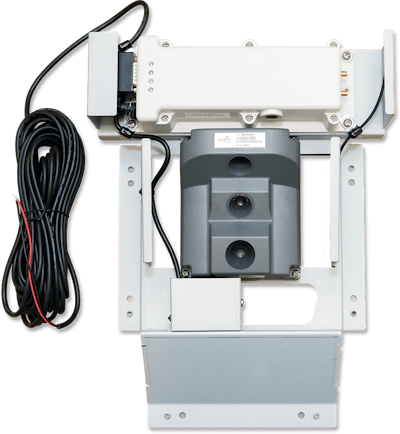 SkyBitz announced the Falcon series GXT3100C, an "all-in-one" trailer and container tracking system of three components: a GXT3100 mobile terminal with remote antenna, SkyBitz Cargo Sensor, and proprietary mounting bracket.
All three are mounted inside the trailer using a single galvanized steel bracket for easy installation and protection from cargo. The product can tether to the 7-way connector for power and runs on rechargeable batteries to produce frequent reporting on location and cargo status. The external antenna is visible from the outside of the trailer.
SkyBitz said new customer Fremont Contract Carriers and existing customer USA Truck have both selected the GXT3100C under its subscription-based enterprise offering SkyBitz as a Service.
"We have many locations where we haul inbound loads to, drop the trailer and then return to haul out a new load from that same facility. We rely on the SkyBitz cargo sensor to tell us if the trailer was in fact unloaded, reloaded, and ready for outbound," said Tim McCormick, COO, Fremont Contract Carriers. "The bigger picture for us is the ability to manage our trailers more efficiently. SkyBitz helps us save the cost of purchasing new ones and gives us better trailer-to-tractor ratios."
USA Truck, a SkyBitz customer since 2011, recently re-evaluated and renewed its fleet with SkyBitz as a Service, installing the Falcon GXT3100C.
"We've already seen the value of cargo status in addition to location updates from SkyBitz and, with this new product, we're able to receive even more frequent reporting," said Russell Overla, executive vice president of Truckload Operations, USA Truck. "SkyBitz as a Service is an attractive offering because it enables us to quickly deploy the new all-in-one device to our fleet by eliminating any upfront hardware costs and providing us with the latest technology updates."
The all-in-one configuration simplifies the installation process and exposes a small antenna to the outside of the trailer, the company said.
"At SkyBitz, we pride ourselves on our culture of innovation and working closely with our customers to develop customized solutions built to better serve their needs," said Henry Popplewell, senior vice president and general manager of SkyBitz.