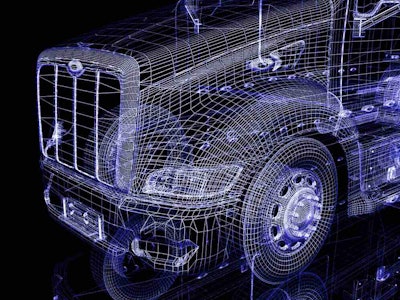 Internet of Things:
A proposed development of the Internet in which everyday objects have network connectivity, allowing them to send and receive data.
The Internet of Things (IoT) has a different meaning depending on your vantage point. As a consumer, the "things" could be your phone, Fitbit, smart clothing, car, home appliances and other devices sharing a common network and Internet connection.
As a fleet owner, manager or driver, the "things" could be electronic logs, video event recorders, collision warning systems, electronic control modules, vehicle sensors and other devices connected to the vehicle's network and mobile communications platform.
In the consumer world, thousands of devices and applications are compatible straight from the box, the App Store and Google Play. The same is not true in trucking. A collision warning system, for instance, cannot be integrated with a telematics system at the push of a button like pairing a Fitbit with a smartphone. But the trends are definitely moving in that direction.
For starters, technology companies have ways to upgrade customers to the latest "things." Heniff Transportation Systems recently outfitted its fleet with a new trailer tracking system by SkyBitz. A monthly subscription service includes its Falcon series hardware, integration with back-office software, onboarding support, and real-time reporting and analysis tools.
Heniff is using SkyBitz "a lot of different ways," says Justin Neal, director of business integration for the Oak Brook, Ill.-based company. As one example, Heniff has a Web portal that customers can use to see the real-time status of their loads. The estimated time of arrival for each load is displayed next to a visual "stoplight" that turns green if a load is on-time or red if it is running late.
The Internet of Transportation Things (IoTT) has emerged from consumer-style platforms like Android that have quickly become the new standard for compatibility in trucking with mobile hotspots and other connectivity features built in to the fabric of modern trucks. In all, it has become easier and faster than ever to bring on new technology.
Click on one of the five items below to see how the IoTT has taken hold in the industry and where it is going next.