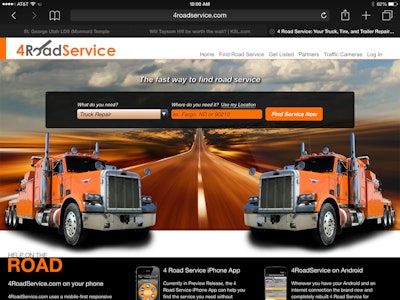 4RoadService.com announced the completion of a major overhaul of its website to let truck drivers and dispatchers quickly find truck repair services on any web-enabled device.
Third-party web performance testing tools show that 4RoadService.com scores better and has a faster load time than any major competitor, the company says.
4RoadService.com started the redesign with the goal of making the website easy to use and fast on all devices including phones, tablets, and desktop computers.
"Over 50 percent of our visitors were already on mobile devices, so we wanted to make their experience much better, and while we were at it, make the website wicked fast," said John Beales, the company's vice president and lead developer.
The new design was done with a mobile-first philosophy, where every page was designed to work well on a smartphone before being adjusted for cases when the screen being used to use the website is wider, he said.
"Since people on mobile devices are the majority of our users, it only made sense to go mobile-first," added Beales, "Before, mobile users had to go to a separate mobile website with a very stripped-down experience. Now everyone gets the full experience, whether
on a phone, tablet, or computer."
4RoadService.com, based in Montreal, QC, was founded in 2003 by the Brian Telford, a former truck driver turned safety director. After building his own database of truck repair providers he saw a need for a user-friendly breakdown directory online and 4RoadService.com was born.
4RoadService.com currently lists over 26,000 truck, tire, and trailer repair shops and mobile units. Access to the directory is available on the web at https://www.4roadservice.com/ and via the 4RoadService apps for iOS and Android.