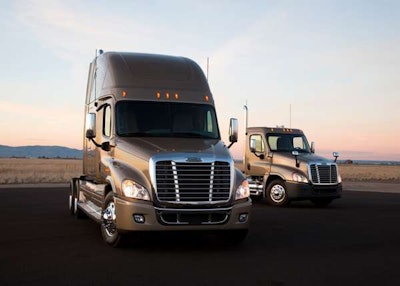 No matter what the OEM makeup of your fleet looks like, a truck isn't worth a hill of beans if you can't rely on quality service and support to diagnose the problem and repair the tractor quickly.
Daimler Trucks North America, which currently touts 40 percent market share in the North American Class 8 truck market, understands this.
"I would say with OEMs, it was all about product five years ago, but we clearly understand that our industry is changing," says Friedrich Baumann, DTNA's senior vice president, aftermarket. "Today it is as much about the service as it is the product."
In 2011, the company partnered with telematics solutions provider Zonar to launch DTNA's Virtual Technician remote diagnostics platform in an effort to shorten repair turnaround times for customers at its 750 dealer and distributor locations in North America.
In June, the partnership took another step when DTNA became a minority investor in Zonar, creating a long-term partnership aimed at creating in advancements in intelligent connectivity.
"Combining the strengths of both organizations provides an almost unbeatable combination," says Baumann.
One recent enhancement Zonar has made to its product suite is ZFuel, which takes telematics information to the next level by providing a geographic overlay to engine fault code information generated by Virtual Technician.
"We wanted to take the spatial information that allows fleets to really drill down to make sure drivers aren't shifting too soon or idling when it's 70 degrees outside, where are they using or not using cruise control, etc.," says Mike McQuade, co-founder and chief strategy officer for Zonar.
A natural progression of the DTNA-Zonar partnership could be predictive diagnostics, says Brett Brinton, Zonar's co-founder and CEO, adding that the first provider of such an evolution in remote diagnostics likely would come from an OEM. Zonar currently has collected more than 100 terabytes of data coming from engines and vehicles since the inception of Virtual Technician.
"We have the data now and DTNA has the information on their end to put it together and make it happen," says Brinton, but adds even though data and analytics is the next frontier that there is not a product in the roadmap currently in development.
Looking 20 years out, the future of telematics and OEM offerings has the potential to be game-changers for fleets.
"Mechatronics will become more of a topic than it is today because everything will be run on wires – brake by wire, steer by wire – and it will become much more dominant," says Baumann. "What that means for service is the technician's life will be different because the majority of work can be done remotely."
"When every truck is connected, contextual information that will allow experts to remotely diagnose truck will be commonplace and demanded just like any other feature on a truck," sys McQuade. "Fuel economy will improve astronomically because you can compress the 30 percent variability that a driver brings, and prognostics will eliminate hits to fuel economy from component failure."
Baumann also expects mobile service and remote offerings will continue to grow. "I think a lot of stuff will happen with flashing over the air, and that has the capability to provide more individualized service," he says. "With FOTA, in a number of years each vehicle could be programmed for the specific route to optimize fuel economy based on terrain, load type and weather and traffic forecasts. No longer will you have to take it to a dealership and hook it up to have it re-flashed."
The DTNA-Zonar partnership isn't happening in a vacuum of course, as other OEMs and telematics proviers are hooking up to provide enhanced service offerings. As that trend continues to happen and as more advancements in telematics take place, truck productivity and profitability will continue to increase.