Telematics and vehicles have a close relationship. You might call it a marriage of expediency.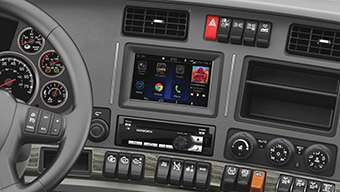 The manufacturers of trucks, trailers, engines and major components want visibility of their product performance in the real world. They also want to entice buyers and keep customers with real-time information that can maximize the availability and utilization of their assets.
Companies that develop wireless technologies, or more specifically telematics systems, share the same goals. They also want to bring additional applications to the market to increase the performance of drivers and assets.
The two sides have already teamed up to deliver remote diagnostics services to eliminate preventable equipment failures and expedite repairs.
As the relationship deepens, "connected vehicle" technologies continue to expand. One project already underway will enable remote adjustments and reprogramming of electronic control units. This capability already exists with reefer units, but trucks will soon be linked to servers to change engine parameters such as max speed or to update software that improves fuel economy and other areas of performance.
As busy as OEMs are with developing new connected vehicle technology, telematics companies are carrying a heavy load as well. They are the ones building engines to power big data analytics. By bringing information from vehicles together with various other sources, their cloud-based engines can give their customers new insights and drive better decision making.
With telematics companies independently working on a number of connected vehicle technoloiges, this three-part series will explore the types of technologies you can expect to see coming soon.
Part one includes interviews with Omnitracs and Orbcomm, and subsequent parts in the series will feature information from more telematics providers.
The open platform
Some OEMs have made exclusive agreements with telematics companies to jointly develop connected vehicle technologies. Others, like Navistar and Cummins, have taken a different path. Theirs is an open platform built to work with a variety of telematics systems.
Last month, Navistar announced it will offer a "telematics credit" to offset the cost of telematics hardware and data services for its customers. This gives fleets an opportunity to choose from among several telematics platforms and take advantage of connected vehicle technologies like remote diagnostics.
As one of the largest telematics providers, Omnitracs has taken a similar approach. To date it has not aligned itself with a particular OEM but is working with all of them on various connected vehicle projects.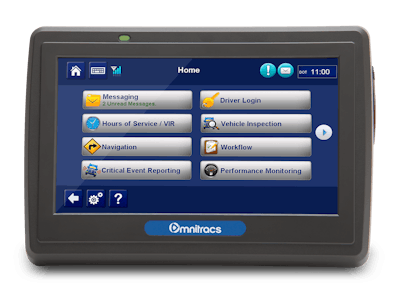 "In doing so, we understand that each OEM is a little unique," says Dan Speicher, chief technology officer. Each manufacturer wants to have some proprietary telematics applications, he says, but to have massive success the OEMs realize "they are going to have to open their kimonos to three or four telematics providers."
To prepare for the future of connected vehicle technology, Omnitracs is developing new mobile applications with a two-stage approach. Stage one is moving all of its fleet management applications to be compatible with a single hardware platform.
Currently, Omnitracs has the XRS suite of applications that use consumer-style Android mobile devices for the display. Its more traditional, in-cab Mobile Computing Platform (MCP) uses its own hardware and custom Windows operating system.
For stage two, all its mobile applications will become hardware agnostic. This stage will be partially completed by mid next year, he says, and a set of applications will be available in a "single stack" that OEMs can offer their customers.
The applications will incorporate electronic logging, IFTA reporting, navigation, proof of delivery and more, he says. As for what to expect in the future, OEMs will work with telematics companies to make their trucks smarter with apps that can prevent mistakes from happening in the first place.
As an example, Speicher says the company is working on predictive maintenance to identify part failures before they happen. It is also working on predictive safety alerts which can be sent to other vehicles in the proximity of an accident or critical event.
Imagine two vehicles in the same area traveling in the same direction. Both suddenly come to a stop. A telematics application could detect this event and predict an accident has happened. If bad weather is added to the mix, the app could predict a major pileup has occurred and send out a warning to other vehicles to avoid that road segment, he says.
Expanding connectivity
Trucks are not the only type of assets joining the connected vehicle bandwagon. The cost of telematics hardware has dropped and functionality gone up to the point where fleets can use telematics to monitor any type of asset.
Orbcomm has been in the telematics space for nearly 20 years. When it started, the hardware cost thousands of dollars. While this was no obstacle for railroads that needed to monitor million-dollar locomotives, trucking companies have waited until the price points lined up to create a fast return on investment, says Marc Eisenberg, chief executive of Orbcomm.
The company offers external-mounted hardware and network connectivity capable of tracking any type of asset. Its trailer and reefer monitoring devices, such as the GT 1100-CTS, use the power line connection with the tractor to transmit information to in-cab devices from companies like PeopleNet and Omnitracs.
By doing so, drivers have instant visibility to reefer temperatures and diagnostics information, he says. Dispatchers and fleet managers can also use the system to remotely adjust reefer temperatures.
"We are seeing a lot of that, which is why our refrigeration business is taking off," he says. Most of its fleet customers with refrigerated operations run other types of trailer assets such as dry van, containers and flatbed. The Orbcomm devices share information with the same cloud-based software to give fleets central visibility to all of their assets, he says.
Eisenberg believes that to be successful, telematics companies will need to be partnered with OEMs to ensure that their products integrate and for dealerships to sell and install telematics hardware and software directly at the point of sale.