Editor's note: This is the second installment of a 3-part series on connected vehicle technologies. Part I explored remote diagnostics and other joint projects between telematics companies and vehicle manufacturers.
Truck, trailer and component manufacturers have a vision for the connected vehicle. And so do telematics providers. Both sides want to use technology to make vehicles safer, more efficient and productive.
In some areas this will take cooperation; others it will not. What has yet to be determined is whether the connected vehicle will be a singular set of technologies for certain makes and models of equipment, or a new set of standards for the future of fleet management?
Fleets are hoping for the latter since few operate equipment from only one manufacturer. What remains to be seen is if telematics providers and OEMs will work together to create a seamless experience for fleets that operate mixed assets.
Working with OEMs
Some connected vehicle applications will go squarely through OEMs, particularly the ones that impact performance of engines and components.
"I have visions of one day being able to remotely flash engine firmware," says Garland Jackson, who leads PeopleNet's OEM line of business. The capability he speaks of is an OEM updating the firmware of engines and components over the air.
Currently, OEMs release software updates a couple of times a year. A tethered connection between a computer in a maintenance bay and a truck is needed now. In the future, Jackson believes OEMs and telematics providers such as PeopleNet can update firmware and transmit real-time performance upgrades.
One possibility is real-time calibration of engines based on location, temperature, topography and more. This external information could be beamed up to OEM servers which then would calculate the optimal tune and send an update to the engine through a secure wireless connection.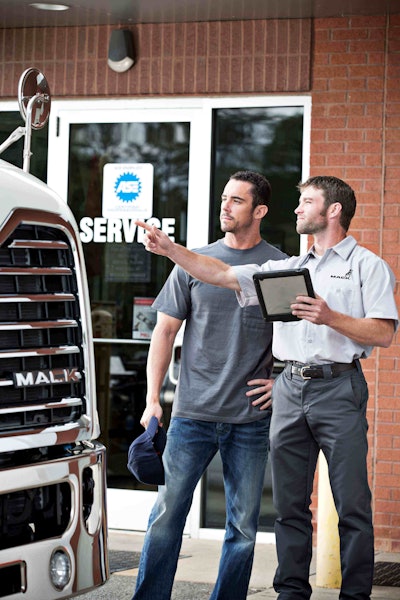 Driver health is another opportunity for both parties to work together, he says. Heart rate, blood pressure and other biometrics could be captured by vehicle systems like the steering wheel. The data could be picked up by a telematics system and reported to drivers and fleets.
The telematics system, and the truck itself, could provide health notifications to drivers.
"You could also get into gamification by having devices that drivers wear to make sure they are active and moving outside of the vehicle," he says. "Where OEMs embrace these types of opportunities we will be there to help them work through it."
Going it alone
Not all future connected vehicle technologies need the blessing of OEMs. Communicating safety alerts among vehicles and drivers is one application that telematics providers are developing on their own.
Their systems can already report vehicle locations and speeds relative to the posted speed limits. Future apps could detect instances when two or more trucks have come to a stop on a road or move at unusually slow speeds. When these events occur, the systems could alert other vehicles moving towards that area, Jackson says.
Telematics systems also can make trucks "smarter" by connecting to applications that understand what the assets need to be doing at this moment and into the future.
"The vehicle has to be tied to the workflow processes around it," says Kelly Frey, vice president of marketing for Telogis, which offers a telematics and software-as-a-service mobile platform with applications that include commercial navigation, compliance and route optimization.
Accidents, weather-related incidents or a change in customer schedules could mean a truck should shut down earlier than initially planned, he says. By connecting a truck with a route optimization system, a driver could get an instant recommendation to stop for a break now and resume in the morning, for example.
"When you get into more complex computations of forward planning, (telematics companies) that have routing and optimization applications are more capable of doing that," he says.
Opportunities also exist to connect to various sensors and systems around the vehicle and determine the status of a vehicle in relation to its work environment. Tire pressures, reefer temperatures, cargo sensors and more can feed information to alerting systems for drivers and fleet managers if the status is not going according to plan. Vehicles also become smarter by connecting to external systems like weigh scales and inspection stations to automate work.
As future technologies like vehicle platooning come into play, Frey also sees a role for telematics to help fleets and drivers save fuel. By connecting the vehicle to route planning systems, for example, a driver could be instructed to join two or more trucks up ahead in a platoon to reduce wind resistance.
"OEMs would never do that since they are not working across different customers and vehicles," he says.