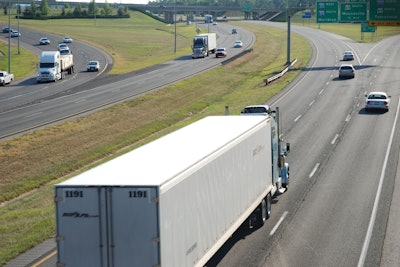 The Owner-Operator Independent Drivers Association has posted an online petition seeking signatures of those in the trucking industry against the DOT's upcoming proposal to mandate speed limiters on heavy trucks.
OOIDA, an owner-operator and driver lobbying and advocacy group, says in the petition the rule will create "an artificial and unsafe speed differential between trucks and other highway users." The group says the faster-moving cars sharing the road with slower trucks will result in an increased chance for collisions as cars try to pass trucks.
The American Trucking Associations, however, has long backed the rule. ATA was one of the groups that spurred the National Highway Traffic Safety Administration's work to produce the mandate, as it petitioned the agency in 2006 asking for a requirement that trucks be limited to 65 mph or lower.
OOIDA, though, has stood firmly against the rule. In its push to gain signatures for its petition, it says speed limiters won't address safety challenges "that come with driving on the lower speed roads where most crashes do occur." It says improving truck driver training and ensuring that law enforcement tickets passenger car drivers who drive unsafely around trucks is the only way to improve safety in these situations.
The full text of the petition can be read here.
The proposed speed limiter rule is scheduled to be published this year. It was sent to the White House's Office of Management and Budget on May 19, and it is projected to clear the OMB this month. Once cleared by the OMB, the rule will be published in the Federal Register and open for public comment for 60 days.
Following the public comment period, NHTSA and the Federal Motor Carrier Safety Administration would then produce a Final Rule, which would go through the same regulatory review process as the proposed rule, except it would not have a public comment period.
The rule likely would go into effect two years following publication of the Final Rule.