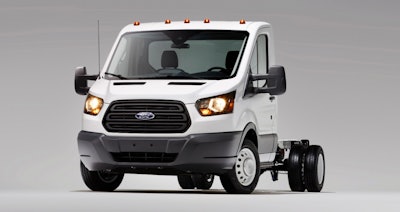 The Federal Motor Carrier Safety Administration has granted Ford Motor Company an exemption to allow motor carriers to operate Ford's Transit-based line up of trucks and vans that don't meet current exhaust system location requirements.
Regulations require the exhaust system of every truck and truck-tractor to discharge at the rear of the cab or near the rear of the cab.
The Ford Transit doesn't meet these requirements, but it has undergone performance-based testing that demonstrates the exhaust system is as safe or safer than if it compliant with the regulations, according to FMCSA's notice granting the exemption request.
Ford said it performed carbon monoxide concentration tests, which used CO monitors at various locations within the vehicle, to measure the concentration of CO ingress into the cabin area under various driving conditions, including idle and top speed.
According to the request, the tests showed the "resulting CO concentration is below every threshold used by Federal agencies."
The exemption is valid for two years until Aug. 14, 2017. It is effective as of Aug. 12.