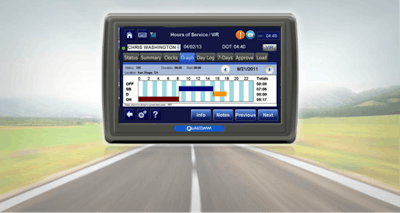 Volvo Trucks North America and Mack Trucks today entered into a memorandum of understanding with Omnitracs, provider of fleet management, routing and predictive analytics systems, to develop future fleet management services for carriers. The agreement allows the leveraging of Volvo's Remote Diagnostics and Mack's GuardDog telematics-based proactive diagnostic and repair planning systems.
The hardware that enables third-party fleet management services also drives remote diagnostics, which Volvo made standard on all Volvo-powered vehicles in 2013. Using Volvo's ASIST web-based service management platform, remote diagnostics identifies the necessary parts and provides repair instructions, even before the truck arrives for service, reducing diagnostic time by up to 70 percent and lowering repair time by more than 20 percent. The entire process is managed by Volvo's Uptime Center, which consolidates under one roof the people and systems needed to monitor and respond to vehicle issues in real time, including 24/7 support through Volvo Action Service and ASIST experts.
Launched in 2014, Mack Fleet Management Services connects Mack proprietary data with third-party intelligence solutions to help customers effectively and efficiently manage their operations. Mack's integrated GuardDog Connect telematics solution serves as the enabling hardware for Mack Fleet Management Services and eliminates the need for aftermarket hardware purchases and installation costs. GuardDog Connect is standard on Mack Pinnacle, Granite, Titan by Mack and TerraPro concrete pumper models.