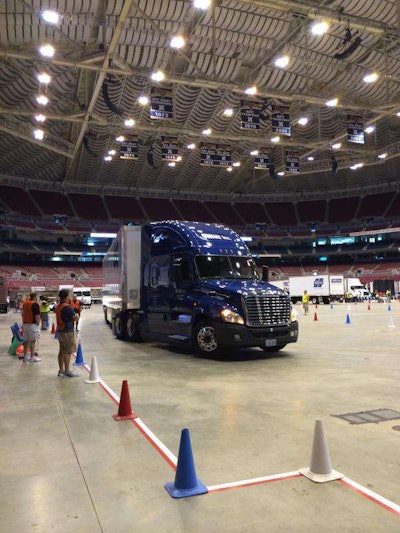 Another round of kudos to Ronald Emenheiser Sr. (@Walmart), #NTDC2015 Grand Champion. https://t.co/I0hKZTnI1b pic.twitter.com/OYzNPLUVSU

— American Trucking (@TRUCKINGdotORG) August 16, 2015
A Walmart driver has been crowned the 2015 Bendix Grand Champion at the 78th annual National Truck Driving Championships and National Step Van Driving Championships.
Ronald Emenheiser Sr., a Walmart driver based in Yorkana, Pa., won the event, which was hosted by the American Trucking Associations.
"All the competitors who took part in the National Truck Driving Championships are champions – they are champions for safety on our highways and for our industry's image," said ATA President and CEO Bill Graves. "And while I applaud all of them for their achievements and dedication to safety – I want to especially congratulate Ronald for winning the Bendix Grand Champion award with his superior driving skill and commitment to safety."
To win the title, Emenheiser's driving skills and knowledge of transportation and safety topped those of 430 other professional drivers from across the U.S. in the "Super Bowl of Safety."
Emenheiser, who won the sleeper berth division, has more than 25 years as a professional driver. He first competed in his state truck driving championships in 2006, and this is his second trip to the National Truck Driving Championships. He succeeds Jeffrey Langenhahn, a professional truck driver with Con-way Freight, as the Bendix Grand Champion.
ATA also honored Brook Figgins, a professional driver for FedEx Freight, as the 2015 Rookie of the Year after competing in the sleeper berth division. The Wisconsin driving championship team won honors as the highest scoring state.
This year's NTDC featured 431 competitors from all 50 states, representing 85 different companies.
In their respective classes, drivers tested their expertise in the driving skills they use daily. The competition course inside the America's Center Convention Complex and Edward Jones Dome challenged their knowledge of safety, equipment and the industry. The skills course tested drivers' ability to judge distances, maneuver tight spaces, reverse, and position their vehicle exactly over scales, before barriers or around curves.
Joining Emenheiser as champions in their respective classes were:
Straight Truck: Jeremy Steger, Con-way Freight, Plymouth, Wisc.
Three-Axle: Donald Logan, FedEx Freight, Eskridge, Kan.
Four-Axle: Bradley Lester, FedEx Freight, Happy Valley, Ore.
Five-Axle: Eric Ramsdell, Walmart Transportation, Wittmann, Ariz.
Sleeper Berth Class: Ronald Emenheiser, Walmart Transportation, Yorkana, Pa.
Twins: David Mogler, FedEx Freight, Commerce City, Colo.
Flatbed Class: Scott Woodrome, FedEx Freight, Middletown, Ohio
Tank Truck Class: Brian Singelais Sr., A. Duie Pyle, Inc., Webster, Mass.
Step Van: Andrew Tuck, FedEx Ground, Xenia, Ohio