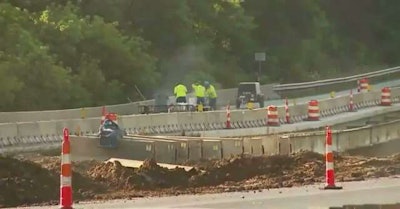 I-65 NB through Lafayette to remain closed until at least mid-September https://t.co/9eByMMkryg

— FOX59 News (@FOX59) August 15, 2015
A northbound segment of Interstate 65 between Lebanon, Ind., and Lafayette, Ind., will be closed through the middle of next month, the Indiana Department of Transportation said this weekend. A 40-mile detour is in place until the state can ensure the bridge spanning the Wildcat Creek near Lafayette is structurally sound.
Movement in the riverbank pier noticed last week prompted the bridge's closure, InDOT said, and an estimated 8,000 trucks per day will be rerouted.
Need to get to Chicago, but don't want to go through the detour/delays in Tippecanoe Co.? Check other travel options https://t.co/ppXtXjRrSV

— RTV6 Indianapolis (@rtv6) August 10, 2015
"Since we closed the bridge, reopening it safely has been our top priority," said InDOT Commissioner Brandye Hendrickson. "We are confident the issues are related to construction activities, and the remedy will provide a safe and long-term solution."
Detour details:
I-65 northbound merges to one lane and is diverted onto U.S. 52 at Exit 141 north of Lebanon. The northbound lanes are closed to all traffic between U.S. 52 and State Road 25 (Exit 175). The I-65 southbound lanes remain open within the work zone.
The detour over U.S. 52, State Road 28 and U.S. 231 maximizes use of four-lane roads and minimizes traffic signals. To improve traffic flow on the detour, InDOT pursued the following:
*Activated temporary signals on Sunday at the State Road 28 intersections with U.S. 52 and U.S. 231 in Tippecanoe County,
*Removed the stop sign for U.S. 231 traffic on Tuesday at State Road 18 in White County,
*Installed signage and arrow boards to clearly mark the detour,
*Posted on dynamic message signs as far south as the Louisville metro area,
*Suspended construction where the detour rejoins I-65 in White County, and
*Continues to monitor traffic flow and adjust U.S. 231 signal timings.