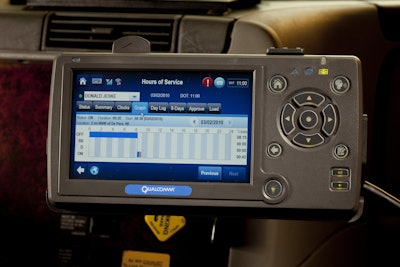 A proposed rule that will require use of speed limiters on heavy trucks is still scheduled to be published by the Department of Transportation this week, according to the DOT's latest rulemakings update.
The rule, details of which are still not public, is forecasted to be cleared by the White House's Office of Management and Budget Monday, Aug. 17, and published by the National Highway Traffic Safety Administration as a Notice of Proposed Rulemaking Aug. 20.
The NPRM is expected to include both a proposed limited speed and details on whether the rule will apply retroactively to vehicles already in use or to just new trucks being manufactured.
Also scheduled to see action soon is the final version of the Federal Motor Carrier Safety Administration's rule to mandate the use of electronic logging devices, according to the DOT report. The rule, which will take effect two years after its publication in the Federal Register, will require all drivers required to keep records of duty status to use an ELD.
Click here to read more on the rule from prior CCJ reporting.
The e-log rule is also currently under review by the OMB. It is projected to be cleared by the OMB next month, Sept. 21, and published Sept. 30. A corresponding rule that will impose stiff penalties on carriers who use the devices to coerce or harass drivers is scheduled to clear the OMB and be published the same week.