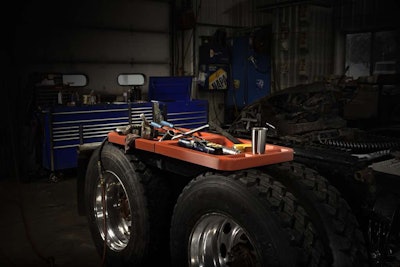 Aftermarket product provider Minimizer has since the March unveiling of its Tandem Wheel Work Bench sold out of the product twice — a sign of the market demand of a simple product that can aid owner-operators, fleets and other techs, says Minimizer's head of marketing Jason Rhoads.
Minimizer's showing off the Tandem Bench at the Great American Trucking Show in Dallas in this week, which is now back in stock and available through its network of more than 1,000 distributors, along with its Single Wheel Work Bench.
And with products like the wheel benches and the Slick Plate fifth wheel cover also on display at the show, Rhoads says Minimizer is positioning itself as an aftermarket products provider rather than just a fender maker.
The Slick Plate, says Minimizer's Steve Hansen, comes with a five-year warranty and removes the need for drivers to ever grease their fifth wheel, he says. The plate is available through Minimizer's distribution network, too.