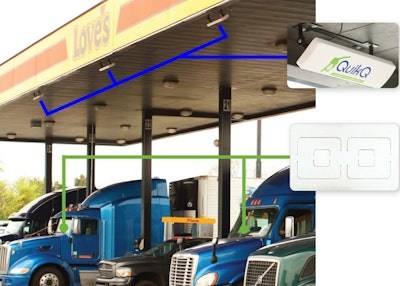 QuikQ, provider of a cardless, direct fuel connection between truck stop point-of-sale (POS) and motor carrier enterprise systems, announced an integration with Innovative software from TMW Systems.
QuikQ says its Fuel Purchasing System (FPS) saves money for truck stops and carriers and manages the entire process from carrier back office to truck stop back office. The fleet, truck stop and driver use live carrier data for control, reporting and improved security over fuel transactions.
The integration uses asset, dispatch and driver data from the Innovative IES transportation management system to validate and authorize fuel purchases through the QuikQ FPS.
"By eliminating the need for separate databases, and because QuikQ uses TMW dispatch, truck, trailer and driver records, our mutual customers will now have faster and better control of what is happening at the pump," said Ernie Betancourt, president of QuikQ.
The new integration is available in Innovative release R2015.1 and uses the Innovative FlexFuel system to streamline access in real time to data on fuel purchases made through QuikQ FPS.
Access to dispatch details and fuel purchase policies in Innovative FlexFuel enables QuikQ to provide and manage separate purchase policies in real-time for tractors, trailers and drivers. This access to live files also allows fuel purchasing transaction data to be immediately and efficiently updated when a driver is added or removed from a carrier's Innovative database.
The new integration also works with private-label versions of QuikQ FPS and the QuikQ processor can run on a fleet's enterprise system instead of QuikQ's data center.
Use of the referenced integrations or interfaces with TMW software may require the purchase of additional software licenses and professional services from TMW Systems.