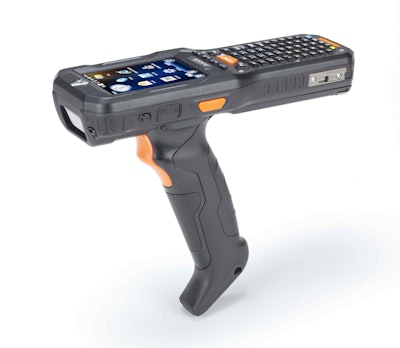 Janam Technologies, a provider of rugged mobile computers that scan barcodes and communicate wirelessly, announced the XG3-ER. As the newest addition to its XG3 series of rugged mobile computers, the XG3-ER offers long-range barcode scanning and is one of only a few devices available with Intermec's EX25 near/far imager.
Designed for manufacturing, transportation and logistics, and warehouse applications, the new XG3-ER incorporates auto-focus technology that results in a barcode reading range that is 30 percent greater than competitive scanners. It reads virtually any kind of 1D and 2D barcode, omni-directionally, from 6 inches out to more than 50 feet.
Janam says the XG3-ER provides accurate, motion-tolerant scanning when lighting conditions are dim or the barcodes are damaged, obscured or placed on high shelving.
Designed to excel in the most challenging environments, the XG3 is Janam's next-generation, gun-shaped rugged mobile computer. The XG3-ER can survive multiple six-foot drops to concrete on all sides across a full spectrum of temperatures and is sealed to IP65 standards for use in wet and dirty environments. It has a standard 5200mAh hot-swappable Li-ion battery for uninterrupted operation throughout the workday.
Other XG3-ER features include:
» Microsoft Windows Embedded Handheld 6.5 operating system
» ARM Cortex-A8 processor @1GHz
» Brilliant 3.5-inch VGA TFT display with hardened glass
» 512MB/1GB with expansion capability
» 802.11a/b/g/n Wi-Fi and Bluetooth
» Motion sensing accelerometer