CCJ Indicators rounds up the latest reports on trucking business indicators on rates, freight, equipment, the economy and more.
[gt_divider type="dotted"][/gt_divider]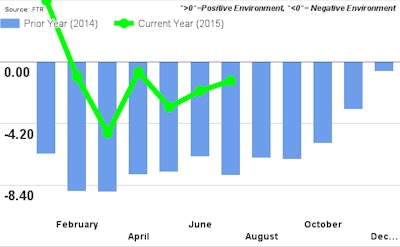 Trucking conditions hit 2015 high mark: Conditions for trucking companies, as measured by FTR's monthly Trucking Conditions Index, rose to their highest point of the year in July, FTR reported this week. The index, after climbing high in 2013 and 2014, has sputtered some this year following mixed freight reports.
Upward revisions to first and second quarter freight growth, however, have driven the index upward as well. Better than expected freight growth and a "stronger freight forecast," says FTR, were key factors in the index's July gains. FTR says it expects the TCI to continue to trend higher in 2015's remaining months, signaling better conditions for carriers.
"Stock market gyrations may have caused concern, but the freight market continues to chug along. Pressure to add more drivers has momentarily eased, yet freight continues to increase and rates paid to truckers are still relatively strong," says FTR's Jonathan Starks. "Depending on the markets that they serve, carriers are either seeing growing rates or they are only a little behind the very high rates seen last year. Continued easing of diesel prices helps with cash flow for small carriers, and Q3 should be good for both revenue and profits."
[gt_divider type="dotted"][/gt_divider]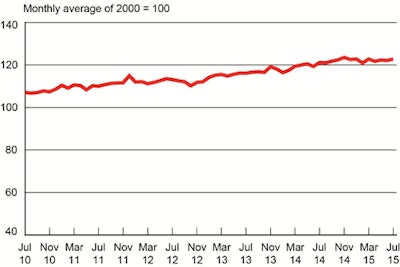 DOT reports freight uptick in July: The amount of freight carried by for-hire transporters in July, per the DOT's monthly Freight Transportation Services Index, rose six-tenths of a percent in July. The amount of freight moved in March, April, May and June was also upwardly revised (as FTR noted, too). The Index in the month was just half a percent shy of it's all-time high reached last November.
Truck and rail freight led the index's reading, which encompasses all modes of transportation, including air, pipeline and water, in addition to truck and rail. Compared to last July, freight movement was up 1.4 percent. Year-to-date in July (compared to the end of 2014), the index is up 0.2 percent.
[gt_divider type="dotted"][/gt_divider]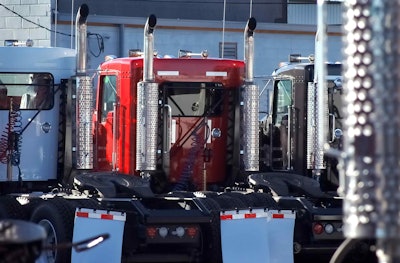 Truck orders continue to stumble: Class 8 net orders in August were 19,700, according to preliminary figures released last week by ACT Research. That's a 20 percent drop from July and a 22 percent decline from last August. Following a six-month boom in truck orders at the end of last year, 2015 orders headed south early and have stayed low nearly the entire year.
ACT's Kenny Vieth, however, says truck demand may not be the main driver of low net orders.
"We continue to believe that much of the order decline is a reflection of larger backlogs and tough comps, rather than any substantive change in demand."