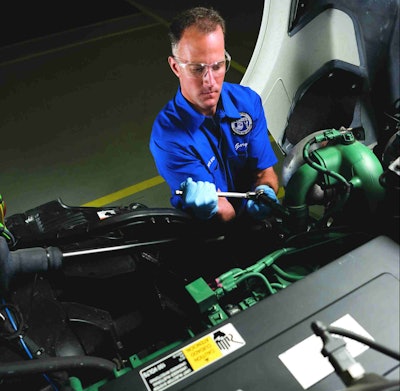 Last week it was announced independent heavy-duty aftermarket leaders and the Truck & Engine Manufacturers Association have agreed to a Memorandum of Understanding that will allow the independent aftermarket access to all proprietary heavy-duty repair information beginning on Jan. 1, 2016.
Now, it's time to find out what that MOU really says.
According to Commercial Vehicle Right to Repair Coalition Chairman Marc Karon, the new MOU is a significant win for the independent heavy-duty aftermarket. Though not legally binding, Karon says the EMA has informed the Commercial Vehicle Right to Repair Coalition that all of its heavy-duty OEM members have agreed to follow the guidelines of the MOU.
Under the MOU, the independent aftermarket will have access to diagnostic information for all model year 2010 and later vehicles weighing more than 14,000 lbs. This includes wiring diagrams, information locating sensors, the ability to reflash and reset onboard computers, as-built VIN to OE part number information and any specialized tools required to complete vehicle diagnostics.
"Anything the dealer can do, we will be able to do," Karon says.
The MOU also will require OEMs to license this information and the associated tools at "fair and reasonable" prices.
Karon says the Commercial Vehicle Right to Repair Coalition, EMA and Equipment & Tool Institute are already working together to ensure all diagnostic equipment available in the market on Jan. 1, 2016, reflects the language found within the MOU.
In addition, the MOU states that by 2018, each vehicle manufacturer will be required to provide access to their onboard diagnostic and repair system information system using a non-proprietary vehicle interface and software that can run through an Internet connection on an off-the-shelf computer.
This means that by Jan. 1, 2018, aftermarket service providers will be able to purchase any OEM-proprietary diagnostic software to use in their existing computers.
The two sides also have agreed to methods for disseminating this information, and a plan for resolving disputes that may arise due to different interpretations of the MOU.
Karon says the National Automatic Service Task Force (NASTF), one of many organizations committed to the Commercial Vehicle Right to Repair Coalition, has agreed to work in conjunction with CVSN to acquire and publish all necessary diagnostic information at www.cvsn.org.
NASTF also will field independent aftermarket claims of lack of information and will work on behalf of the aftermarket to resolve said disputes with the OEM. Karon says this is a key point, as NASTF is better suited to directly negotiate with OEMs. This also will eliminate the need for aftermarket businesses to address OEMs directly over access.
In situations where NASTF and OEMs do not solve a problem, independents can petition for a dispute resolution panel with an arbitrator to resolve the issue.
The MOU immediately ends all legislative action taken by the Commercial Vehicle Right to Repair Coalition to solve this issue, Karon says. "All parties to the agreement agree to avoid seeking federal or state legislation to resolve future issues."
And yet as strong as it is, Karon says the MOU still falls short in a few key areas, including not addressing telematics and training shops on the repairs.
Karon says the EMA is willing to address a telematics resolution at a later date, but she says training is a key component of the MOU where heavy-duty OEMs simply will not budge.
"That's going to be a tough thing for our industry," he says.
CVSN has committed to house a training library on its website, but Karon advises the industry will need to do much more in this area.
"Vehicle manufacturers are continually training their dealer to be prepared for new vehicle technology and how to repair these trucks. However, the vehicle manufacturers are not willing to offer the same training to the independent service shops," he says. "Our industry will have to address this issue."
"In the hands of an untrained technician, the access to information can be a problem and can lead to a lot of unexpected cost to the repair shop or owner, and potential safety issues."
But as a whole, Karon is pleased with the finalized MOU.
He adds, "As an industry, we have to become more engaged in our future. Sitting on the sidelines and hoping others will fight our battles is not a long-term strategy."