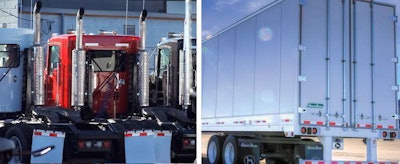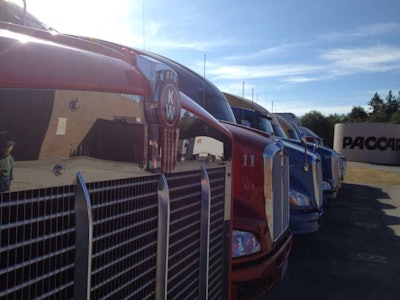 Following record Class 8 orders in the late part of 2014 and the subsequent settling of orders seen in recent months, data on Class 8 truck orders still suggests demand above that of simple replacement cycles, said FTR's Eric Starks on Wednesday.
In a Class 8 demand outlook at FTR's Transportation Conference on Wednesday, Starks said utilization of equipment is about 90 percent right now, a few points above the mark that typically indicates fleet growth. "Anything about 85 to 88 percent suggests you need to be adding equipment into the fleet," he said. "Things are still a little bit tight."
Though the economy is showing mixed signals and freight demand is expected to be choppy in the coming months, the next year and a half look positive for truck orders, Stark said.
He expects total net Class 8 orders to be between 325,000 and 330,000 for 2015 and fall to 290,000 next year and 260,000 in 2017. Despite the drop, those numbers still suggest "a full replacement market," Starks says, "maybe even a little bit of growth."
The dip should begin around the second quarter of next year. Backlogs have started to decline from their recent peak, too, but are still healthy, Starks said. "They're on the downward trend," he said. "But it's not alarming because they're so high." Current backlogs are there to support current build levels, Starks added.
Stifel Transportation's Michael Baudendistel, however, offered an alternative Class 8 order outlook following Starks, saying climbing costs for new equipment, a drop off in pricing of used trucks (and the subsequent equity loss for truck owners), a young U.S. fleet due to recent turnover and poor "underlying freight trends" will stymie the order market.
Baudendistel said his firm predicts 280,000 net orders for 2016, 250,000 for 2017 and 220,000 for 2018.
Trailer orders at record high
Total net trailer orders in 2015 are expected to land just shy of 1999's record, said FTR's Don Ake in a session on trailer order outlook. Ake says 2015 should see 302,400 total orders, about 5,000 shy of 1999's 307,800.
Order backlogs are also at an all-time high this year, Ake said — 186,000 expected this year, compared to the 187,000 record in 1999.
"This is the longest up cycle in trailer history," Ake said of the now six and a half years of trailer order growth. But like the economy as a whole, the trailer ordering upcycle may be on borrowed time. "This is the sixth year of a five-year upcycle," he said.
Slowing freight growth and decreasing capacity utilization, however, are starting to put downward pressure on net trailer orders, Ake said.
Orders for refrigerated trailers have been the hottest, Ake said, and did surpass 1999's numbers this year. FTR expects net orders to hit 45,600 this year — up from '99's 40,000.
Dry van orders are expected to see an uptick in the last quarter of this year, he said. Flatbed fell off in the middle of this year, but build orders are still trending upward, Ake added.