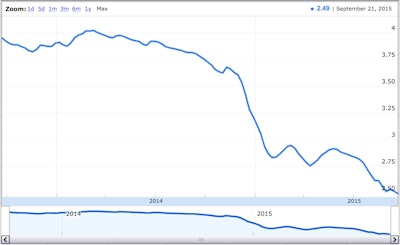 With a 2.4-cent drop this week, the country's average diesel price is at its lowest point since June 1, 2009.
The average price of a gallon of on-highway diesel is now $2.493. Prices dropped in all regions during the week with the most significant decrease coming in New England, where prices dropped 4 cents.
The most expensive diesel can be found in California at $2.848 per gallon, followed by the Central Atlantic region at $2.662 per gallon.
The nation's cheapest diesel is in the Gulf Coast region at $2.34 per gallon, followed by the Midwest at $2.447 per gallon.
Prices in other regions across the U.S. are as follows:
•New England – $2.613
•Lower Atlantic – $2.448
•Rocky Mountain – $2.522
•West Coast less California – $2.55