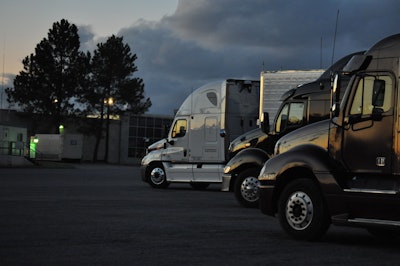 The American Transportation Research Institute this week released results of its Commercial Driver Perspectives on Truck Parking survey, the first in a series of technical memoranda focused on critical truck parking issues. Among the issues highlighted include the extent of drivers' parking problems nationwide and particular areas of needed focus around the nation, issues also highlighted by the recent Jason's Law Truck Parking Survey conducted by the Department of Transportation and partners.
Among the findings include perceptions among drivers on the extent of the need for new parking development in both public (rest areas and the like) and private (truck stops) arenas, as well as an awareness of the difficulties faced by any entity, public or private, that would attempt to invest in parking. "Adding the needed capacity" identified by the recent major federal study, notes the report, "is expensive and rarely politically acceptable, so alternative methods of managing parking resources are being explored. One alternative solution that has seen limited usage is 'reservation-for-fee' systems, a somewhat controversial approach that charges carriers or drivers for a guaranteed parking space in advance."
The first Tech Memo on parking put a close focus on driver opinions of reservation systems, finding that those with pay-to-park options may face an uphill acceptance battle if such systems proliferate.
Respondents' reported willingness to pay for a parking space, by price:
Source for above: ATRI's Commercial Driver Perspectives on Truck Parking survey, Tech Memo No. 1
Though some major truck stop chains have moved in a limited fashion in the direction of offering a select number of spaces for paid reservations (TA Petro's Reserve-It system, for instance), close to half of all ATRI survey respondents, as shown in the above graphed survey results, reported no willingness to pay for parking.
Company drivers were least likely to show any willingness to pay at all, with leased owner-operators most likely. Owner-operators with their own authority, meanwhile, were split down the middle on willingness to pay, and when ATRI asked about such willingness in major metropolitan areas, where parking problems are well-known, all three groups of respondents showed higher percentages indicating some willingness to pay. ATRI's further analysis of this and other survey data suggested that reservation parking systems near large metropolitan areas ultimately would have the highest utility.
Another finding of interest includes survey respondents' rating of where parking problems are at their worst — private truck stops or public facilities:
Source for above: ATRI's Commercial Driver Perspectives on Truck Parking survey, Tech Memo No. 1
Respondents were also asked how many times out of every ten stops they stopped at a public rest area versus a private truck stop. On average, considering only those options, drivers surveyed used truck stops for parking "27.2 percent more often than public rest areas (56 percent versus 44 percent)," the ATRI report notes.
More than 1,400 surveys were collected by ATRI. While driver responses "will provide important inputs," the report reads, "it is expected that more detailed driver and carrier response information will be generated through additional data collection mechanisms" as research efforts continue.
The survey is part of the organization's "Managing Critical Truck Parking" initiative, whose advent follows ATRI's Research Advisory Committee identifying parking as a top priority topic for research in 2015. Further efforts will look to synthesize ATRI survey data with the FHWA's Jason's Law report and study, assess parking supply and demand, and analyze "the impact of non-commercial vehicle use of truck parking spaces."
A copy of the Tech Memo is available from ATRI via this link.