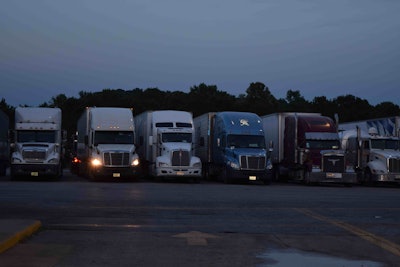 The U.S. Department of Transportation has published an updated Jason's Law truck parking survey that is intended to update the progress of work completed since the first study was released in 2015.
The new survey for trucking companies can be completed here. It should take five to seven minutes to complete, and no personally identifying information will be collected. There are also separate surveys intended for truck drivers and truck stop operators.
The first survey found that most states lacked truck parking capacity, especially states along major corridors with high truck volumes. The top five corridors cited by drivers in the first survey to have truck parking shortages were I-95, I-40, I-80, I-10 and I-81. Additionally, truck stop operators reported most facilities were at capacity during night hours and some during daytime hours as well. The full results of the first Jason's Law study can be found here.
The Federal Highway Administration says the new version of the survey is meant to update the inventory of truck parking and identify improvements to truck parking availability since the first survey; evaluate truck travel by state to evaluate increases in truck parking demand; evaluate the types of technology being used to monitor availability and demand; and to compile truck parking plans, studies and projects completed by states and metropolitan planning organizations.
FHWA will also be surveying states to inventory truck parking at public rest areas.
Jason's Law first came about in the 2012 MAP-21 highway bill and is named after Jason Rivenburg, a truck driver who was gunned down during a robbery attempt in 2009 at an abandoned gas station. The Jason's Law inclusion in the highway bill required the DOT to address the national truck parking shortage at public and private facilities along U.S. highways.