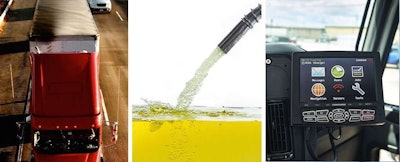 Carrier spending on fleet equipment upgrades and increases in driver pay more than offset lower fuel prices in 2014, according to the annual Operational Costs of Trucking report issued Sept. 28 by the American Transportation Research Institute.
The average marginal cost-per-mile for carrier operations rose in 2014 more than three cents to $1.703, according to ATRI's study, up from 2013's $1.676. ATRI surveyed carriers that in total account for 54,833 tractors and/or trucks. See the percentage breakdown above for respondent fleets' size.
Here's where carrier costs shrunk:
Fuel still remained carriers' largest per-mile cost, 58.3 cents a mile in 2014, but its share of per-mile spending fell from 38 percent to 34 percent. The per-mile average cost of fuel in 2014 fell 6.2 cents from 2013's 64.5 cents per mile.
The only other line item to drop in 2014 was spending on permitting and licensing, which fell half a penny to 2.3 cents a mile, according to the report.
Here's where they rose:
Driver wages and equipment and maintenance costs saw significant jumps, with driver pay rising 5 percent from 2013 and a equipment and maintenance costs climbing 41 percent.
Driver wages, the second most costly item behind fuel, rose 2.2 cents to 46.2 cents a mile. ATRI attributes the increase to carriers' efforts to mitigate the current and projected driver shortage.
Truck and trailer costs, in the form of either lease or purchase payments, jumped more than 5 cents a mile to 21.5, according to the report, up from 2013's 16.3 cents a mile and the highest since 2009's 25.7 cents a mile. Repair and maintenance costs rose a penny to 15.8 cents a mile, the report says. 2014 was a banner year for Class 8 truck orders, which obviously accounted for the increase in new equipment costs, ATRI says.
Combined, fuel costs and driver wages alone made up more than 60 percent of carrier costs. Driver wages and benefits, fuel costs and equipment costs (including repair and maintenance) made up 91 percent of carrier costs in 2014.
Other carrier costs that rose in 2014 include truck insurance premiums, tires and tolls, which collectively increased carrier costs by 1.4 cents a mile. Tire spending rose three-tenths of a cent to 4.4 cents a mile, insurance premiums rose seven-tenths of a cent to 7.1 cents a mile and toll spending rose four-tenths of a cent to 2.3 cents a mile.
By sector:
Despite an increase in the overall average cost per mile, both truckload and less-than-truckload carriers reported decreases in cost-per-mile. Truckload CPM fell two cents to $1.58, while LTL CPM fell a penny to $1.83. Specialized carriers saw their CPM climb nearly 20 cents, however, to $1.85 a mile. ATRI attributes the increase to an uptick in specialized truck and trailer purchases and new leases and increased insurance costs associated with those purchases and leases.
Speed limiters and e-log usage up:
More than 90 percent of survey respondents (91.8 percent) said they limit their trucks' speeds, with 65 mph being the most common speed limit. That's up from last year's 86.8 percent, but down from the most recent peak in 2011, 93.2 percent
Adoption of electronic logging devices also climbed in 2014, with 63 percent of carriers — a 10 percent increase — reporting some use of ELDs.