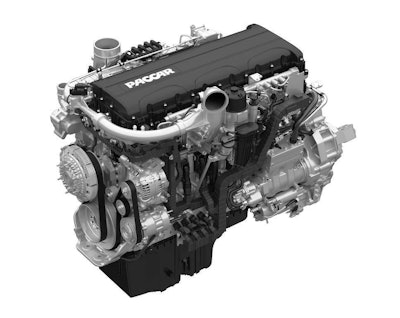 I-405 is the main north-south freeway through the greater Seattle area and often a source of frustration, given the high volumes of traffic that is seemingly always present. But once you clear the congestion, the Pacific Northwest offers stunning vistas and great roads. And while it is true that this area is Kenworth's home turf, it is also true that you'd be hard-pressed to pick better terrain to test a new 11-liter Diesel engine and terrain-following cruise control system.
The new MX-11 was, like its big-brother MX-13, designed by Paccar's DAF subsidiary in The Netherlands where it underwent extensive testing on the European continent since its debut there in 2013, eventually logging 250 million miles there, with another 2 million logged here in North America.
Interestingly, Paccar builds the new engine at its manufacturing facility in Columbus, Miss., with many of those engines finding their way back across The Pond to Europe.
The MX-11 features several new design points that were not available when the MX-13 engine was on the drawing board. There are new, modularly-designed components, for example, including an interesting new water pump that features cartridge-style sections that can be replaced without removing the entire system. If the impeller or the belt assembly goes bad, a technician can simply remove and replace those modules and go on his way.
A glimpse of the future can be seen in the MX-11 as well: The engine has been designed from the ground up to be quickly updated with new software and can be programmed to meet specific customer requirements.
Actual engine displacement is 10.8 liters, which works out to 355 to 430 horsepower options with torque ratings ranging from 1,250 to 1,550 pound feet. Paccar says the new MX-11 is 400 pounds lighter than comparable Cummins ISX12 or MX-13 engines and has a 1 million mile B10 life.
On the highway, the MX-11 proved to be superbly quiet with plenty of low-end torque on hand. Lugging up steep mountain grades was no problem at all. My test truck, a sharp Kenworth T680 with an Eaton Fuller 13-speed manual transmission was loaded with about 34,000 pounds in the trailer — a load the MX-11 was easily able handle in that rugged terrain.
New Predictive Cruise Control system now in production
It was no coincidence that my MX-13-powered T680 test tractor featured the Eaton Fuller Advantage AMT. That transmission is also the key controlling component of Kenworth's new Predictive Cruise Control system, which I was also given the opportunity to evaluate during my drive. The new system is pretty slick: It uses real-time GPS data to not only control vehicle speeds to optimize fuel economy, but closely monitors GPS terrain modeling to anticipate changing road conditions and set the truck up to deal with them in as efficiently as possible.
One of the drawbacks of a conventional cruise control system is its inability to judge terrain conditions. Every driver is familiar with the sudden burst of throttle as cruise control discovers too late that its truck is on a long, steep mountain grade, or scrambled to disengage the system as speed picks up sharply once a grade has been crested.
Kenworth's new system can identify these terrain conditions before the truck is actually dealing with them, and adjust throttle settings or gear selections in advance to handle them. This holds true both up a grade, or going down, when the system automatically shifts the powertrain into neutral, or what Kenworth calls "Coast Mode," to deliver exceptional fuel economy. Should the grade steepen and vehicle speed start to pick up, the system automatically and seamlessly engages the MX-11's engine brake to hold the truck at its desired speed.
It's a fine system that worked exactly as advertised during my run around the Cascades. Even in steep terrain, drivers can pretty much flip the system on and forget it, with full confidence it will handle any terrain coming its way.
Paccar says MX-11 engines will enter production early next year, which Kenworth's new Predictive Cruise Control System is available now as a factory-installed option.