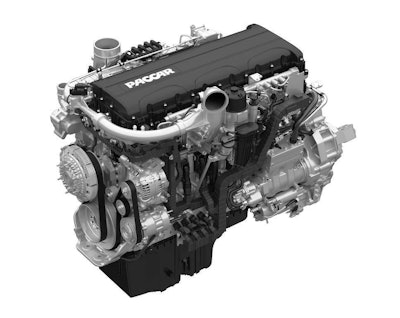 Peterbilt will offer the Paccar's new MX-11 engine in its Model 579 and Model 567 trucks beginning Nov. 13.
The MX-11 has an output of up to 430 horsepower and 1,550 lb.-ft. of torque. It has six inline cylinders and a double overhead camshaft design, and they are the only commercial diesel engines to use Compacted Graphite Iron in both the engine block and cylinder head. CGI is approximately 20 percent lighter and 75 percent stronger than traditional gray iron.
"The Paccar MX-11 engine is a great addition to Peterbilt's lineup of technologically advanced solutions focused on delivering the highest levels of quality, durability, performance, reliability, efficiency and overall return," said Darrin Siver, Peterbilt general manager and Paccar vice president. "The Paccar MX-11 engine provides outstanding value in a lightweight and fuel efficient design, and will continue to exceed our high standards and our customers' expectations."
All Peterbilt dealer locations will provide full support of the Paccar MX-11. The engine will be produced at Paccar's engine manufacturing plant in Columbus, Miss., where the MX-13 engine is produced.
"In addition to the weight and fuel savings, drivers will appreciate the responsiveness, performance and quiet operation of the Paccar MX-11 engine running in their Peterbilt truck," Siver said.