Nearly all companies that supply mobile fleet management systems have moved to the Android platform within the last four years. Some offer it as an option; for others it is their only option.
Many devices on the road today still use a Windows environment, but the main drawback of these more traditional platforms is the inaccessibility to a virtually limitless supply of third party apps.
Truck navigation has been available for more than a decade, and with the emergence of Android in transportation, it has become the most popular addition to the core fleet management applications of driver messaging, electronic logging and workflow.
Here are five reasons why: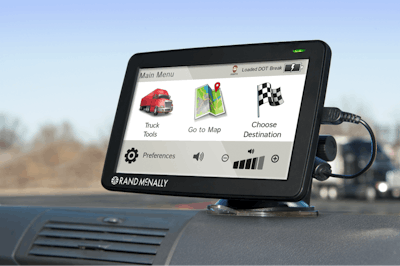 Already included. Some suppliers offer navigation as a centerpiece of their mobile platforms. Rand McNally, for instance, offers a stand-alone GPS navigation device called the IntelliRoute TND. The company includes the navigation software in its Windows and Android fleet devices. Its HD 100 device enables all of its applications — messaging, electronic logs, navigation and more — to run on any Apple or Android device.
Blue Tree Systems has partnered with Garmin to offer its fleet 670 device to run all BlueTree applications. The device is a durable Android tablet with a 6-inch screen that comes with navigation and lifetime map updates. Blue Tree's apps include messaging, electronic hours-of-service with HOS Advisor, and driver performance.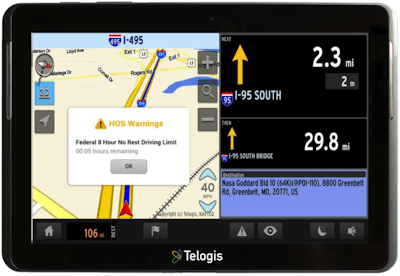 Compatibility. "Plug and play" is not a term that is usually associated with mission-critical business applications. Navigation has traditionally been a stand-alone app, but today it comes with pre-built integrations with mobile and back-office fleet management systems. Telogis Navigation, for example, is one of several integrated components of Telogis' cloud-based "location intelligence platform" that includes route planning and mobile apps for Hours of Service (HOS) plus mobile forms and telematics.
Customizable. No fleet owner wants drivers to be hopping between apps while a vehicle is in motion. Minimizing distractions is one reason that led ALK Technologies to build an extensive integration kit for its CoPilot Truck navigation app. Third party software developers can wrap information from their own dispatch, hours of service, driver performance and other apps into the user interface of CoPilot to improve safety, says Dan Popkin, senior vice president of enterprise solutions for ALK Technologies.
Rapid deployment. As suppliers have come out with new Android platforms, navigation is one of the first third party apps that they make available within their own, private "Play" stores. This was the case when Zonar released its 2020 Android tablet with ALK's CoPilot Truck in 2014. PeopleNet recently announced new Android-based devices with availability of CoPilot Truck as well. CarrierWeb will soon offer a suite of integrated trucking apps with third parties that will include TruckerPath, Drivewyze and ALK CoPilot Truck.
Journey management. A lot of variables go into creating safe routes, especially during the final mile. Truck navigation apps can be set up to give drivers very specific, location-based instructions as they cross a virtual boundary called a geofence. When a truck approaches a loading or unloading site, for example, the apps can read off a set of instructions to drivers. They can also give drivers warnings when they approach a dangerous turn or enter a high theft area, among other possibilities.
MiX Telematics, one of the largest telematics companies worldwide, offers a navigation app from Sygic on a 7-inch Android tablet. MiX Telematics has a large presence in the oil and gas industry where strict adherence to routes is critical, says Pete Allen, executive vice president of sales. The company will be adding a journey management tool that integrates route compliance tools with the Sygic navigation app.
Going forward, another possibility is to include predictive modeling in navigation. Omnitracs Analytics, a division of Omnitracs, has advanced predictive models that identify at-risk drivers for fatigue and accidents. The company is working on an intelligent routing and navigation product that will give real-time recommendations to improve safety, including where and when drivers should obtain rest based on the characteristics of their route, their work and sleep schedules and more, says Dean Croke, vice president of Omnitracs Analytics.
For real-world reviews of navigation apps by fleets, visit CCJ Reviews