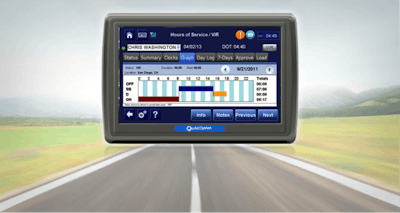 After less than a year in development, Omnitracs announced the addition of Omnitracs Navigation to its portfolio of fleet management applications. Rick Turek, the chief navigation scientist at the Dallas-based company, was hired last December. The team working on the new app has since grown to 20 people, he said.
The quick development was possible by leveraging the intellectual property of Roadnet, a subsidiary of Omnitracs that has routing, navigation and mapping applications.
Turek led the development of Maptuit, an onboard truck navigation system that was acquired by Telogis. Based on his experience, he believes Omnitracs Navigation will be the best-in-class truck navigation platform out of the gate.
"We want to address the issues with navigation in the trucking industry, the biggest being stale data," said Turek. "Driver experience is poorer with old data, and we are focusing our energy on trying to solve that."
The platform collects truck route data from more than 250,000 customers that use Omnitracs' in-cab mobile computing systems that contribute over four billion data points. The driver interface for Omnitracs Navigation provides alert information to drivers with fast, near real-time updates, and extensive fleet configuration options.
Turek said that Omnitracs Navigation provides fleets and drivers with the following differentiated features and capabilities:
Data Publishing — All of the data is stored onboard with Omnitracs as the data publisher. Updates are sent to the unit automatically as the data changes so that the unit is always current. By leveraging traditional data, (e.g., posted speed and traffic light locations) combined with real-time data, (e.g., current traffic and weather conditions), and Big Data (how a particular road is used at a certain time, and "black spot" high frequency accident zones), Omnitracs Navigation delivers a more consistent, predictable, and accurate plan for maximizing the road network.
Actionable Data — data is pulled from Omnitracs telematics units to build statistical models that create an enhanced, truck-preferred network that is constantly pushing new and actionable data to drivers. More than turn-by-turn instructions, the tool is constantly updated.
Driver Community — Omnitracs Navigation has a closed-loop feedback mechanism, which brings driver feedback into the data-editing process and gives them an opportunity to improve their navigation experience, along with the navigation experience of fellow drivers. The loop is closed by informing the driver of how his or her feedback was used, leading to improved driver satisfaction and retention by acting as the driver's trusted advisor.
"Navigation has evolved with the advent of smartphones and GPS devices, and the days of folded paper road maps are gone," remarked Rick Turek, chief navigation scientist at Omnitracs. "However, we know that current and hybrid systems aren't yet perfected and still struggle in keeping data current—imagine not knowing that a new road has opened up or that a road's name has changed; these are the types of things that can easily frustrate drivers. Omnitracs Navigation is the next generation navigational solution that delivers current and actionable data so that drivers can do their jobs more safely and efficiently."