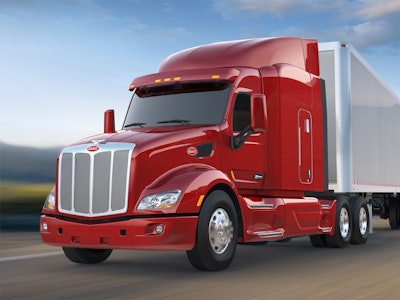 Prime Inc. – the country's 16th largest carrier, CCJ Top 250 — recently ordered 900 Peterbilt Model 579s equipped with Paccar MX-13 engines. Peterbilt announced the purchase, which will put the trucks in operation with Prime's affiliate, Success Leasing.
The trucks were purchased through The Larson Group, also based in Springfield.
Prime has been operating Peterbilts for more than 10 years. The 900 just purchased will be equipped with Peterbilt's 80-inch sleepers. They'll be powered by the Paccar MX-13 engine.
"Peterbilt and Prime are two of the most recognizable names in trucking, both synonymous with quality, reliability and value," said Darrin Siver, Peterbilt General Manager and Paccar Vice President. "The Model 579 is the most fuel efficient, innovative vehicle in Peterbilt's history and Prime's commitment to this model further elevates it as the truck of choice for quality, performance and value, not to mention operator satisfaction."