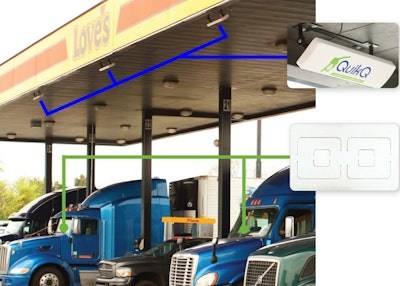 QuikQ, a provider of a cardless, direct fuel connection between truck stop point-of-sale (POS) and motor carrier enterprise systems, announced an integration with Fiscal Systems, a provider of point-of-sale systems to independent and national truck stop chains. The integration with the QuikQ Fuel Purchasing System (FPS) reduces the risk of fuel fraud and errors in processing fuel transactions.
The Fiscal Systems POS processes commercial fuel transactions using both attended and unattended systems. The integration with the RFID-based, cardless systems developed by QuikQ, the SmartQ system sold by Comdata Corporation, will enable processing of fuel transactions by Fiscal Systems truck stop customers at major chains and independents.
"Integration of the QuikQ cardless RFID transaction processing system provides our customers another way to process truck fleet transactions that reduces transaction time and helps to prevent fuel theft," said Philip R. Moore, CEO of Fiscal Systems. "The flexibility of using SmartQ to process Comdata, EFS, and QuikQ FPS purchases provides fleets with state of the art multiple transaction processing options."
The QuikQ Fuel Purchasing System for processing fuel transactions saves money for truck stops and carriers by managing the entire process from carrier back office to truck stop back office. With QuikQ FPS, the fleet, the truck stop and the driver use live carrier data for real-time reporting and have improved security and control over fuel transactions.
"Motor carriers using QuikQ FPS and SmartQ will now be able to fuel their vehicles at truck stops equipped with Fiscal Systems POS solutions," said Ernie Betancourt, president of QuikQ. "The integrated technologies provide a faster and more efficient way for commercial vehicle drivers to fuel while also reducing fraudulent transactions."