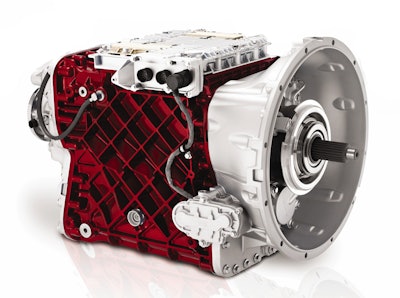 Mack's automated manual transmission (AMT) mDRIVE recently exceeded 70 percent penetration in Mack Pinnacle axle back models and is also now the dominant transmission choice in Pinnacle axle forward models for the first time.
The milestones come just one year after Mack announced the mDRIVE as standard equipment on all Pinnacle models.
"The incredible growth for mDRIVE is a testament not only to the tremendous performance benefits it brings, but validation for Mack's commitment to powertrain integration," said Stephen Roy, president of Mack Trucks North America.
The mDRIVE continuously monitors several driving variables and automatically selects the best gear for conditions to maximize driver productivity, vehicle performance and fuel efficiency through its sophisticated software.
Drivers control the transmission through a dash-mounted shift pad that includes a display to indicate the current gear. Mack's Co-Pilot driver display, located in the center of the gauge cluster, is also integrated with the transmission and displays its status, including the number of upshifts or downshifts available, the current gear and the current operating mode.