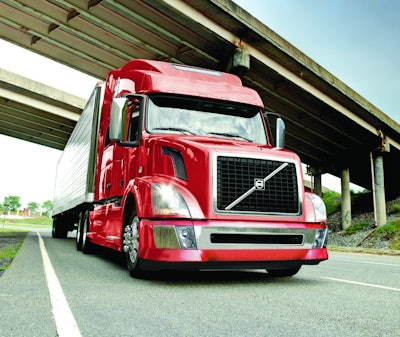 Volvo Trucks North America has issued two recalls recently, affecting approximately 8,200 trucks total.
One of the recalls affects approximately 8,103 model year 2009-2015 Volvo VN trucks manufactured between April 14, 2008, and Dec. 23, 2014. The affected trucks could experience corrosion of the ball joints due to the seals being compromised, which could result in faster wear and failure of the ball joints. Failure of the ball joint could cause separation of the socket and a complete loss of steering, increasing crash risk.
Volvo will notify owners, and dealers will inspect and replace the drag links for free, the recall notice says. Volvo says parts are not currently available, so owners will be sent a second notification when the parts are available.
The second recall affects 101 model year 2012-2014 Volvo VNL trucks manufactured between Dec. 1, 2011, and Sept. 1, 2013, equipped with certain Electric Auxiliary Power Units, part number BA600, manufactured by Idle Free Systems.
Volvo says the affected APUs have metal housings with mounting points that could crack and tear, and the mounting bolts of the power units could loosen or fail. If this were to happen, the APU could fall off the truck into the road, creating a road hazard.
Volvo will notify owners, and IFS dealers will inspect the APU for damage and fix the problem if necessary.