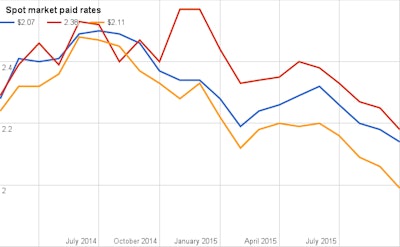 Average per-mile rates on the spot market again dove in all three major truckload segments in October, according to monthly rate data from Truckstop.com.
This is the third straight month all three segments have seen a decline in their national averages. Rates have been trending down since hitting record highs last summer. Contributing factors include a softer freight environment in 2015 than 2014, a slight ease in capacity constraints and rock-bottom fuel prices.
Paid rates, verified averages of rates paid to carriers, fell 7 cents in reefer and van segments.
Paid reefer rates in the month averaged $2.18, down 22 cents from October 2014. Rates in the segment have also fallen 22 cents since their most recent peak in May. They've fallen each month since: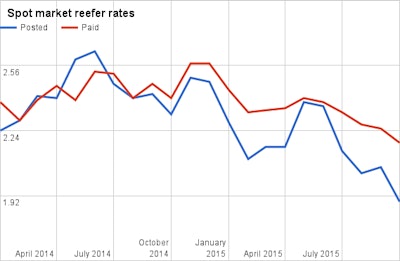 Van rates, meanwhile, averaged $1.99 and were down 34 cents from last October. The country's van rate average has fallen 21 cents since its most recent peak in April, according to Truckstop.com's monthly rate data: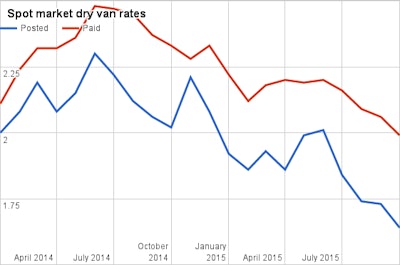 Paid flatbed rates averaged $2.14 in October, down 4 cents from September and down 23 cents compared to last October: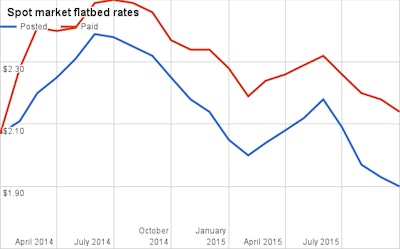 Also, here's a heat map of the states with the highest and lowest rates for the week ended Nov. 8. Arkansas, Alabama and Mississippi remain strong, but the West Coast states are trending higher than the country's average, too: