The average loss value per cargo theft incident in the third quarter was $199,467, an increase of 7 percent over the second quarter, according to the quarterly cargo theft trends report from FreightWatch International.
A total of 152 cargo thefts occurred in the United States during the third quarter, an 18 percent drop from the second quarter. Of the 152 incidents, 63 occurred in July, 57 in August, and 32 in September.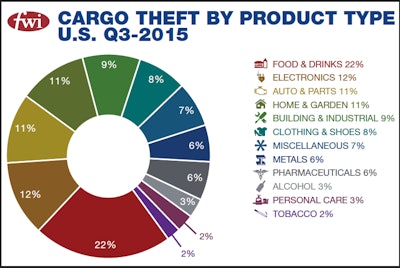 Food and drinks continued to be the most stolen product type, representing 22 percent of all thefts in the U.S. during the third quarter. Products primarily targeted in this category included meats and nuts.
Electronics ranked as the second-most stolen product type, followed by home and garden, and auto and parts.
California reported the most thefts in the third quarter, representing 20 percent of thefts across the country. That's a 6 percent decrease in the state from the second quarter. Texas had the second-most thefts in the country, with 16 percent of the total, followed by Florida with 15 percent of the total.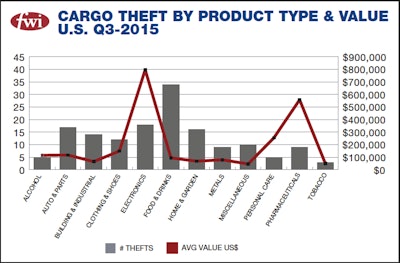 Unsecured parking remained the top location for large scale cargo thefts, representing 82 percent of reported incidents.
Thefts of full truckload represented 81 percent of all reported thefts in the quarter with an average loss value of $206,278.
The electronics product type had the highest average value in the quarter at $797,454, followed by pharmaceuticals at $558,000. Alcohol was third with an average value of $115,237.