A fireworks-filled point-counterpoint session held this week at CCJ's Fall Symposium highlighted the sometimes wide gap between small carrier and large carrier interests on some of the larger regulatory issues facing the trucking industry. A mini-debate pitted David Owen, president of the National Association of Small Trucking Companies (NASTC) against Lane Kidd, managing director for the Alliance for Drivers' Safety & Security (also known as the Trucking Alliance).
Kidd and Owen debated a number of current industry issues from the perspective of their membership bases. And while there was occasionally some common ground, entrenched differences were the order of the day.
Here are some highlights:
Double 33-foot trailers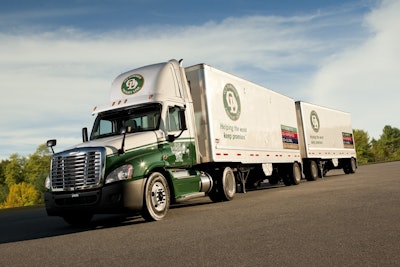 Congress has floated several initiatives this year dealing with truck size and weight reform in the U.S., including a measure that could come to fruition: Increasing allowable twin-trailer length to 33 feet, up from the current 28 feet.
Owen's take: This isn't an issue that impacts us a lot. Most of the doubles and triples being run today are being run by the complex logistics fleets. Our (owner-operators and small carriers) niche is truckload-long haul. And to the extent that we do look at this issue, we're generally opposed because our guys would have to restructure their equipment to be competitive with fleets running double 33s with larger engines and new trailers. It would be too expensive for most of them.
Kidd's take: This is a complex issue for the Trucking Alliance. We certainly see that shippers would favor these trailers. If you're Procter & Gamble, for example, the ability to cube out two 33 cubic foot trailers is very attractive. But we do have safety concerns about Double 33s — notably that drivers are required to break down and reassemble those trailers twice per load.
Speed limiters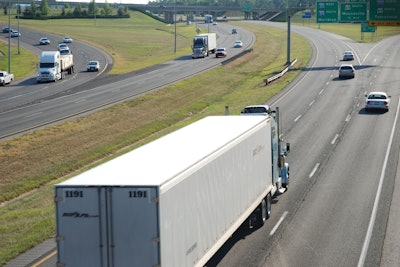 Currently in queue in the DOT's regulatory pipeline is a proposed rule to mandate the use of speed limiters on heavy trucks.
Owen's take: NASTC doesn't see there's a positive impact on safety by these systems at all. The decision to govern a truck should be made by individual companies. Not the government.
The primary focus of this proposed law is not safety at all, but fuel. Unfortunately, as larger fleets try to get an extra penny or two out of a gallon of fuel by driving slower, their drivers leave them for small fleets that let them run at the speeds they want to. That's why the large fleets are lobbying for speed limiters.
Finally, this mandate will create unmanageable density on our highways: Rolling traffic masses going down the highway stuck behind two governed trucks waiting for one of them to pass the other. We already have speed limiters. They're called the posted speed limits. Let the drivers who want to drive the speed limit do so.
Kidd's take: I don't agree with any of that logic. I don't drive the speed limit, and most truck drivers don't, either. The state of Arkansas recently increased its truck speed limit from 65 mph to 70 mph, and now all the trucks in the state are running 75 mph. And when you're on the road late at night being passed by a truck, it's always a "Christmas Tree Truck," all lit up with lights. We're talking about vehicles that weigh 80,000 pounds. They need to obey the speed limit. And 65 to 68 mph is fast enough. To a great degree, there are many ways this industry can be a lot safer than it claims to be. And speed limiters are one of those ways.
Electronic logging devices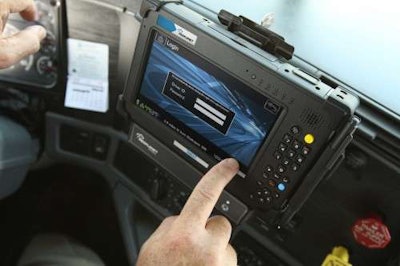 A Final Rule to mandate use of electronic logging devices is expected to be published by the end of the year, if not by the end of the month.
Owen's take: Let me be clear: I am not opposed to a trucking company instituting electronic logging devices to help their drivers comply with the law. But I am totally opposed to a mandate that forces everybody to use logging devices when 50 percent of the truck companies do not ever bump the Hours of Service and do not need electronic logs.
Kidd's take: This does go to the point that an industry that promotes itself as safe should not be opposed a device that proves that it is. These devices are simply a way to prove compliance with the law. A truck today is one of the most technically complex machines on the planet. Technology like this makes us all more efficient. Why do we oppose a device that makes us safer and argue that we should depend on the old Honor System? It's too easy for people to fudge their numbers. We wouldn't put up with it in the airline industry, and we shouldn't put up with it in trucking, either.
Owen: Because it gives the public the perception that we're all running illegally.
Kidd: We don't give the public the option of interacting with us. That happens on the roads every single day. We owe it to the motoring public to prove that we're operating within the law.
Owen: It's just another regulation in an avalanche of regulations. No wonder there's a driver shortage! I think it's all about greed: USExpress was recently slammed by its investors for not making its goal of finding 200 new drivers every week. This industry is running through drivers. How about a new CSA BASIC score tracking driver turnover? And any fleet that's turning over more than 50 percent of its drivers in a certain time frame isn't allowed to grow? That would do more to boost safety, in my opinion.
Potential carrier minimum insurance rate increases
FMCSA last year floated a proposal to increase the minimum amount of liability insurance required to be held by motor carriers. The plan has seen little action since.
Kidd's take: The current $750,000 minimum liability coverage was instituted in 1980 to compensate victims in truck crashes based on costs at that time. Look at medical and hospital costs today: That insurance level is clearly inadequate to cover those costs. Most fleets today are voluntarily running with $1 million or more more in coverage for that reason.
Owen's take: Lane is right. The marketplace has moved that needle to $1 million today. And it's the marketplace should be the driver of correct levels of insurance, not some ambulance-chasing congressman or the robber-baron large fleets that can self-insure and then want to levy those amounts on the small carriers that they'd like to snuff out and make them go away. That's why they've spent millions promoting this agenda.
Kidd: Adjusting for inflation, that minimum number today needs to be $3.5 million. That's the responsibility an industry that shares the road with millions of people every day has. We can't just operate out there the way we want to.
Owen: Minimum coverage of $1 million is reasonable.