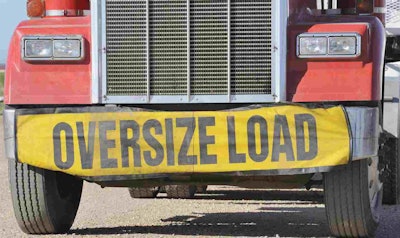 An extensive federal study of heavier and larger trucks says greater analysis and fewer data limitations are necessary to gauge impact on the transportation system.
On April 14, Congress received the Comprehensive Truck Size and Weight Limits Study that the Federal Highway Administration started in 2012. The federally mandated research echoed the study's June technical reports.
"At the conclusion of the Technical Reports, the department believed that the current model and data limitations were so profound that the results could not accurately be extrapolated to confidently predict national impacts," the agency stated.
Since then, the independent peer review and public feedback the agency received did not alter its conclusion. "Another study effort, with more time and more money, would not at this point yield more reliable result," FHWA wrote.
For example, states do not list truck weight at the time of a crash and most crash data systems lack precise identification of longer or heavier trucks. Until information limitations are overcome, federal truck size and weight law should remain unchanged, researchers said.
"Despite recent Congressional action approving additional size and weight exceptions and waivers on a piecemeal and nationwide basis, DOT recommends a thoughtful approach to future policy making," the report read.
A recent example is an exception for covered logging vehicles in the Fixing America's Surface Transportation Act. Signed into law Dec. 4, FAST is meant to create more investment certainty in long-term surface transportation. It also includes permission for these vehicles up to 98,000 pounds to travel certain segments of Wisconsin's I-39 and increases the maximum to 99,000 pounds in this category on portions of Minnesota's I-35.
The American Trucking Association says twin 33-foot trailers would be more productive and result in decreased emissions and road congestion. Conversely, the Truckload Carriers Association says carriers would be pressured to make the expensive switch to twins, while the Owner-Operator Independent Driver Association says it would decrease driving safety and the structural integrity highways.